Aleksandra Koluvija explores Danish environmental documentary The Human Scale and how it relates to Berlin.
Directed by Andreas Dalsgard, 83 minutes.
Every human being has needs and wants; it is our nature to feel that way. Deep inside we all incorporate a need for freedom, identity, creation, leisure, understanding, affection, protection etcetera. These are the things we want to achieve in life, and we search for places to fulfil them. Moving into cities to live closer to our job, we are creating big cities with high buildings, much traffic, and little public space. This brings up many questions: How much leisure and affection can the inhabitants get in fast growing big cities? How can urban areas full of traffic and little space offer room for freedom and understanding? How can people feel protected in the anonymity of big cities?
Megacities have the tendency to be anonymous and rapid. Room and time for leisure is rare. Ways to share affection are hampered by concrete walls, rapid development and little public space for human interaction. Challenges of big cities, such as overflowing traffic, environmental issues, gentrification, slums/ghettos and homelessness for example increase the need for protection of the inhabitants.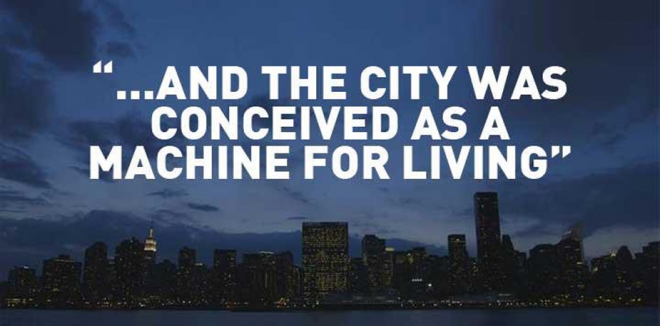 This said, there are many ways to lower the taciturnity of big cities and let its inhabitants become part of the community. The urban-planning documentary The Human Scale gives an interesting inside into both the consequences of unmet human needs in big cities and ways out of it. This thought-provoking documentary by Andreas M. Dalsgaard gives an inside view on how big city life can be improved through incorporating basic human needs into city planning. The documentary claims that simple measures such as sidewalks, bike-tracks and public space can make the fulfilment of human needs more obtainable.
Estimations mentioned in the documentary state that 50% of the world's population are living in urban areas. It is further estimated that by 2050 this will increase to 80%. At the same time, life in megacities is prone to loneliness and severe health issues. Jan Gehl – a Danish architect and professor – has spent forty years on studying the development of human behaviour in cities, and in the documentary he claims that there are simple ways out of ordinary city planning into the formation of improved world-class cities.
Included in the film are interviews with different scientists, activists, thinkers, architects, city planners and simple people from around the world. They all give an incisive perspective on the necessities of people living in megacities. Each interviewee offers ideas on how live in big cities can be improved in a sustainable manner and this simplistic sounding approach behind all the interviews is to put the needs of people back into the centre of city planning.
But as much as the documentary is informative and exhilarating, it has a visible error. While Dalsgaard travels the world to interview important thinkers on urban planning, he always ends up with an architect employed by Gehl Architects. It is simply disappointing to see that Dalsgaard travels to big cities of the world to always end up having a Gehl architect explain the human scale in architecture. At some points the documentary feels more like a company video for Gehl Architects than an objective documentary on ways to improve city planning.
Still, the documentary makes clear points when it comes to improving life in urban areas. Berlin – the place I call home – is a city with many sidewalks, bike-tracks and public space. Still there is a lot of room for improvement. Simple measures mentioned in this documentary could enhance the satisfaction of our human needs and make this city even more liveable. In Berlin there is a lack of traffic-free environments. Further pedestrianisation and safer bike-tracks could give a much better way to live in this metropolis. Open space is available in most city neighbourhoods (Kiez), but many of the spaces are threatened by construction work for new housing spaces. This is not just happening in Berlin, but also in most big cities of the world. There is a lot of room for improvement in sustainable city planning.