Sir Ken Adam was born in Germany before its descent into Nazism. His family escaped the terrors of the 'Thousand Year Reich' in 1934. 80 years later (Nazi optimism eh?) Adam, legendary set designer and a pioneer of a revolutionary cinematic vision, is being celebrated in an exhibition at the Deutsche Kinemathek – Berlin's Film Museum at Potsdamer Platz. The exhibition – Bigger than Life – showcases some of the seminal designs which dominated cinema screens from the 1960s onwards, to critical and artistic acclaim. Curated by Dr Joachim Sartorius and Kristina Jaspers after Adam donated his entire artistic output to the Deutsche Kinomathek, amounting to somewhere in the region of 4,000 drawings, Bigger than Life is nothing if not a testament to the consistency of the artist's talent.
Adam is perhaps most famous for his work on the Bond films from Dr. No  in 1962 to Moonraker  in 1979, but he is also two time Academy Award winner, for his work on Barry Lyndon by Stanley Kubrick (1975) and The Madness of King George by Nicholas Hytner (1994). The few photos I took of the exhibits do no justice at all to the detail, the style nor the substance of what is on offer at Bigger than Life, a title which offers a comment on his design style as much as his attitude towards cinema itself: "The cinema is there to heighten the imagination; I have always tried to make sure it does so."
Perhaps Adam's most inspired design was realised by Stanley Kubrick, a director as famous for his obsessive precision as for his cinematic output. The war room in Dr Strangelove or: How I Learned to Stop Worrying and Love the Bomb (1964) is one of the most memorable sets in cinematic history, augmenting the sense of doom and brutality which runs through the film in counterpoint to the absurd humour of Sellers and Kubrick. In a part of the exhibition entitled Lines in Flow, visitors enter Adam's "thinking space", a layered projection installation which simultaneously shows us the development of his drawings for Dr Strangelove (amongst others) and the man at work, narrating some of his thought processes. It is a fascinating media piece without attempting any clawing intimacy. Of his work on Strangelove, Adam said "the problem with Stanley is you had to intellectualise your ideas… [he] was probably the most brilliant visual director I ever worked with." Kubrick asked Adam to cover the giant table in felt. "I want the film to be like a poker game," he said.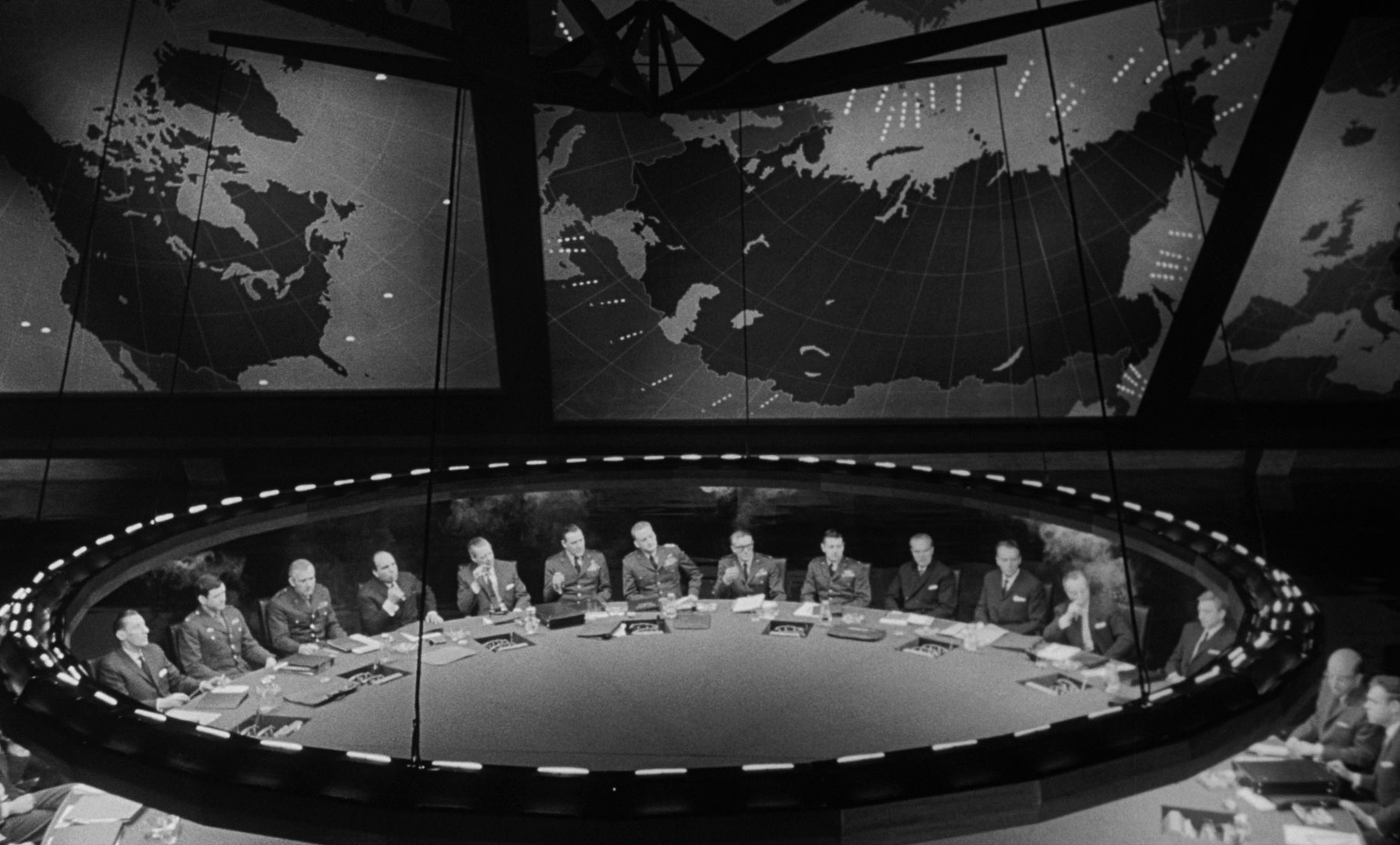 Adam's origins, his escape to London and his lasting influence on a new generation of architects and designers are the central themes of the exhibition As well as Lines in Flow, the exhibition presents unpublished work, personal correspondence and photographs of him on sets or with the directors he worked with. Gadgets, underwater cars, architects' models of some of his more grandiose designs, sketches for 007's machine gun mounted Aston Martin DB5. Even some of his awards are cased up and on show – the proof of the work that went into earning them on display from the moment you walk in, to the moment you walk out.
Bigger than Life at the Deutsche Kinemathek is open from 11th Dec until 17th May 2015. Don't miss this!
Click on the images for a bigger picture of Sir Ken's World.
Photo of Ken and his wife Letizia in                               Ken Adam's sketch and the accompanying
London.                                                                                            model at Bigger than Life.                                        ©Deutsche Kinomathek -Ken Adam Archive         © Sir Ken Adam © Carolin Höfler and Matthias Karch
© Studio Daniel Libeskind
Adam's influence can be seen in works
by artists such as Daniel Libeskind