A done-to-death story of codependent love, where she mistakes his manic highs for everlasting charm and in her search for solid ground locks herself and him in the hell of clashing expectations – it shouldn't have given the Cannes highbrows much to rave about. But, at the premiere of Maïwenn's newest output, rave they did, lauding Emmanuelle Bercot's perfomance in Mon Roi, which earned her the Best Actress accolade (and a new fan in me).
However, if critics' consensus is what gets you off the fence and into the theatre, this film's small but bellicose gaggle of assessors, as is the case for most French fare, won't make your job easier. That's only because the two main characters which serve as its driving force, vanity vehicle, focus and, yes, physically alluring excuse, are deeply flawed (a snobbish way of saying "human") and easily dismissed as self-involved hotheads. In case you've missed it, most reviewers these days are fed up with following enfants terribles on screen, through lovers' fits and erratic rollercoasters, for the self-indulgent sake of the ride and not much in the way of lessons learned along the way.
Mon Roi, then, the story of the tearaway couple locked in a self-destructive loop, is a sweet-and-sour absolute treat of a film for those of us who conceive of the art as insightful exercise for our empathy muscles, and a pointless navel-gazing affair for the rest. That's not to say Mon Roi is without textbook artistic merits, only that its realism, which involves and soars on a fair amount of ad-lib, can make some seekers of loftier purposes cringe.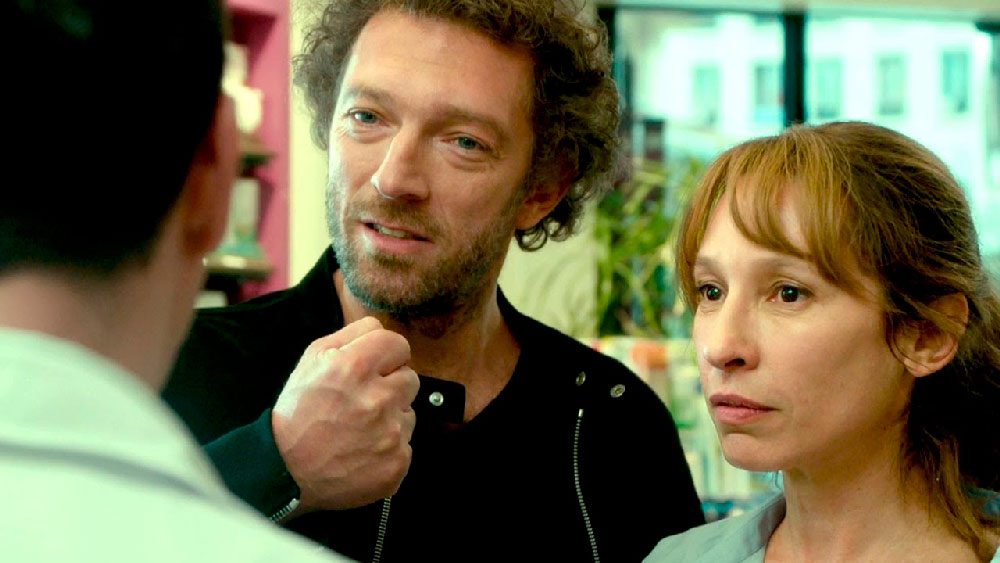 Love uninterrupted as the chains of coupledom
The film starts abruptly and ominously with a shot of Tony (Bercot) taking a nasty spill while skiing – which, when we next see her at the recovery clinic, lost for words before a prying therapist, we surmise was intentional, to some degree. Whether she recognised the need to take a step back from her life and reassess her decade-old on-and-off relationship with Georgio (Vincent Cassel), or the stress of it caught up to her inadvertently on the slope, the time here will allow Tony to come up for air and regroup. The stifling, world-cancelling bubble that has been the mark of Tony and Georgio's great love will be portrayed through long, chronological flashbacks, intertwined with current attempts at recouping both the use of her busted leg and her naturally joyful streak at the clinic.
The first time we see Tony's eye lingering on Georgio's chiseled features, she's at a nightclub with her brother Solal (Louis Garrel, in fine comic-relief form throughout) and his girlfriend. The attraction pulling her, a sensitive, down-to-earth lawyer towards, by all accounts, an emotionally stunted, fun-loving charmer is electric and will probably prompt women in the audience to give an understanding nod – but the bad-boy crush trope takes an uncharacteristic turn when it spins out into a full-blown, on-the-level relationship, soon enough followed by marriage. For a minute there, it seems the unassuming, mousy girl has managed the impossible, housebreaking the unattainable rebel – they even welcome Simbad into the world, a baby boy Georgio himself wished for, expressing it out of the blue one night like one brings up a craving for pizza.
But, as always, if it quacks like a duck, chances are it won't turn into a reliable hubby, and Tony will have to endure the downside of the very easygoing nature that drew her to Georgio in the first place. The film soon settles into a zigzagging pattern, zipping through highs and lows as the two begin a tug of war that has Tony cornered into assuming the role of Debbie Downer to his carefree spirit.
There's no point running
'Rien ne sert de courir,' the movie's working title, does a good job of pointing out the double-edged sword that is Tony's life – on the one hand, she's lovesick and unable to even entertain the thought of detaching herself, even at the behest of her level-headed brother. Garrel's Solal, his own relationship making an episodic appearance as if to counterpoint his sister's tumultuous marriage, plays the voice of reason throughout. But his delivery switches notably as the relationship progresses, from well-timed funny barbs at his sister's unlikely choice for a boyfriend to poignant pleas that she cut her losses, and end her marriage. It's through his eyes that we get a clear picture of what we might already deem a toxic relationship, but his finger of blame is still not Maïwenn's, who builds in his bias as Tony's brother to avoid colouring our view of Georgio from without.
On the other hand, we might read the working title as a reference to the first line in La Fontaine's fable, The Hare and the Tortoise (in its original French), and realise that Tony is hanging on with all she's got, banking on eventually winning her husband's attention away from his fair-weather clique of gadabouts. So, when newly-minted father Georgio playfully implores her for a night out with his posse, and, once she agrees, toasts to "his freedom regained," Tony is awkwardly settling into her new role – his reluctant enabler – with an eye to keeping him happy, and her. Slow and steady wins the race… but is the wear and tear worth it? In the long run, Tony has to take back the reins of her own life, and this painful, uneven process is where Bercot's performance truly shines.
"Le roi des connards" – The king of scoundrels
Tony's needs are very much in line with most "normal girls" (as she describes herself, in stark contrast to the models Georgio's dated before) and at first, while the scales of love are firmly glued to her eyes, she is content with the mad, maniacal, bombastic proofs of Georgio's love. Maïwenn captures the all-consuming exuberance of their first months together with a dizzying display of courtship mush and romantic bliss – at the receiving end of which is a previously grounded girl being swept off her feet before our eyes. Bercot excels at portraying both this fluttering love spell and the ensuing hard landing into reality. When her bursts of infectious, whole-hearted laughter grow fewer and farther between, giving way to wide-eyed surprise and violent outbursts, her frustration is so palpable it digs a pit in our stomachs.
For his part, Vincent Cassel is uncanny in his ability to embody both pursuer and object of her affection, then both lover and oppressor – while realistically maintaining the aura of boyish casualness and flare-ups of unbridled passion that are at the core of what makes scoundrels so attractive. True to himself in a way that almost defies us to find any fault with him, he doesn't change, and, in one of their most heart-breaking exchanges, level-headedly points out that "she knew who he was" even back then, when she approached him in the club. What did change?
The answer, of course, is contextual and, hard as it is to swallow, there are no real villains in Mon Roi, as in life. It's a character-centric cinematic apology for pure love at the expense of all others, and even oneself. And, if you've ever been in either of the protagonists' shoes, it allows you to make peace with your own self-absorbed experience of love, through the self-contained, if bruised, beauty of theirs.