The Macbeth adaptation released later on this year combines the forces of Michael Fassbender and Marion Cotillard, who will star as the power-crazed Macbeth and Lady Macbeth. Here Rosalind Stone discusses Joss Whedon's  Much Ado About Nothing (2013)  and whether Alexis Denisof and Amy Acker really pull off another of Shakespeare's most famous couples- the bickering but bewitching Beatrice and Benedick. 
"That's your vacation time, so you do it." In an interview for Entertainment Weekly, Joss Whedon reveals that this no-nonsense ultimatum from his architect wife Kai Cole quashed his worries as to whether a month would be long enough to write and shoot his 2012 adaptation of William Shakespeare's Much Ado About Nothing, and gave him the impetus to execute the project. Cole's remark smacks of the moment in the play when Beatrice curtails what would otherwise have become a pretty soupy love-in with Benedick, by demanding that he, "kill Claudio," the errant bridegroom who falsely accuses her cousin Hero of infidelity on what is supposed to be their wedding day. Just as Beatrice (Amy Acker) galvanises Benedick (Alexis Denisof) and sends him striding from the living room of the 1920's style Santa Monica house designed by Cole where the film is set, Cole spoke, and Whedon sprang action. Having written his screenplay and its accompanying score (which is multi-generic, great, and Whedon's first full-length film composition), the entire filming process, which was done in black and white, using handheld cameras, was accomplished in just twelve days.
The idea for the film sprang jointly from doing social read-throughs of Shakespeare plays with friends on the property, and Whedon's long-harboured desire to use it as a film set. (And it makes an excellent one; when Beatrice crouches underneath the kitchen counter while listening to Hero and Ursula's pantomimed discussion of Benedick's passion for her, the acting's a bit hammy but, my god, the countertop almost feels built for the purpose!). I was initially enthusiastic about the idea of such a no-frills formula for Much Ado. The setting – a world with classic cars and flat screen computers in a film noir aesthetic, is interesting. But after about 20 minutes in, the conceit started to feel too minimalistic; I realised that I was watching the film with a funny pair of glasses on, and I couldn't take them off.
Through one lens, I was comparing it to the version Kenneth Branagh directed in 1993, which, like all Branagh-Shakespeare collaborations, is not so much Shakespeare adapted– he makes no significant alterations to the script and implicitly follows the stipulated scene settings. Instead it is Shakespeare undiluted– affording some of the boons that come from being produced near the close of the 20th century, such as having the slick but dreamlike editing of Andrew Marcus at the BBC Film Studios at his disposal, (and Keanu Reeves in tow, who is equally slick in the sense of being sinewy and slathered in massage oil, and rather sickening in the role of the illegitimate –and therefore, as Early Modern social mores would have it, inevitably insidious- Don John).
Immediately before the triumphal opening credits, Messina shimmies from a watercolour sketch of the Italian idyll into live action. The cast wear reassuringly antiquated, if not exact-period, costume and romp by torchlight in Commedia Dell'Arte masks; this is Shakespeare by the book. Branagh plays it safe, but despite, or maybe because of this, the results are stellar. He and then-wife Emma Thompson understand exactly what is needed by the roles of Benedick and Beatrice, Shakespeare's witty, sparring, initially reluctant and most intellectually complementary couple. He's -only just- too pompous, she's wry without being sour; they have credible chemistry. It's just impossible to care whether Acker and Denisof get it together to the same extent.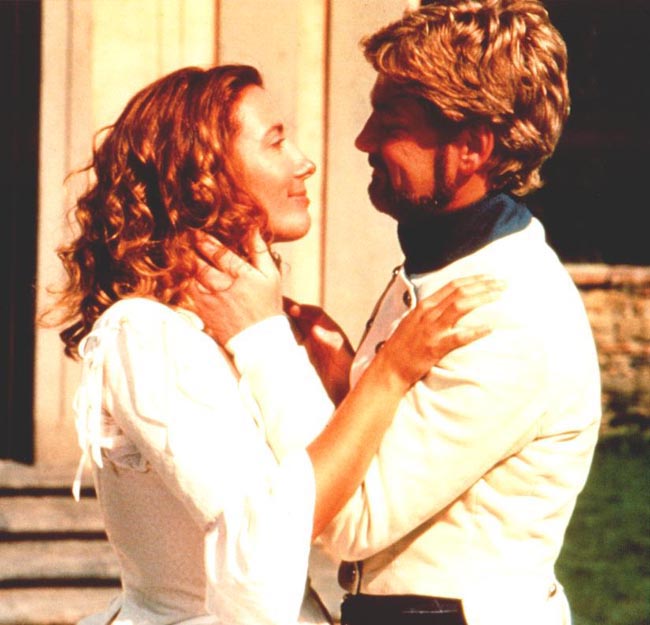 Thompson, who won a Golden Globe for her performance, speaks with a particular kind of magic; affection for the words themselves swells beneath her delivery of them, to the extent that I was unable to watch Amy Acker as Beatrice in Whedon's film without waiting excitedly for the Beatrice-moments that Thompson makes particularly enchanting. (A disappointing disparity comes at the moment when Don Pedro compliments Beatrice on her repartee, and she replies that, far from being born at a merry hour, "my mother cried; but then there was a star danced, and under that was I born." Thompson's candlelit face complete with stargazing eyes holds the screen, whereas Acker lobs this line brashly across the Whedon's open-plan kitchen. Acker's performance is at times beautiful, nettled, caustic, but I couldn't help feeling at this point that the two Beatrices had been born under stars doing decidedly different dances).
My other eye was weighing up Whedon's integration of Shakespeare's script into a contemporary setting with another film of the play, David Nicholls' 2005 rewrite for the BBC's Shakespeare Retold series. Set in a news studio run by Leonard, Beatrice (Sarah Parish) and Benedick (Damian Lewis) spar between takes as they recount local banalities on Wessex Tonight. Their love story is in safe hands with Nicholls (who would go on to write One Day, of the most iconic romances from past decade). The benefit of re-writing Shakespeare is that Nicholls is not only able to make his modernizations credible 21st century equivalents, he can also imbue the plot with extra poignancy. In Whedon's film there's no sense in Don John having an axe to grind because of feeling cold-shouldered for being illegitimate – he's scheming in a society which doesn't have Early Modern attitudes to that. So instead Nicholls' Don (Derek Riddell) is a not-so-closet alcoholic who Leonard wants to sack because "nobody likes him", and his motive for wedding-bashing comes from being hopelessly in love with the weather girl Hero (perma-smiling Billie Piper), with whom he once had a clammy-sounding one-night-stand prior to her engagement to Claude (Tom Ellis).
Whedon can't re-supply his Don John with a motive, but he gets round the time-travel issue by removing the references to Don John's "bastard" status, darkening Sean Maher's performance by making it inexplicably evil. He takes a swipe at Hero and Claudio's wedding plans purely because they are happening at the right time to serve as a "model to build mischief on." Mischief deployed, he flippantly snatches a trendy cupcake from what would have been the wedding breakfast on his way off-screen- a gesture that combines excellent acting and direction. Whedon also innovates extra-textually by casting a female Conrade (Riki Lindhone)- a henchwoman rather than henchman. As Don John croons about his desire to wreak havoc, he slithers distractedly between Conrade's thighs, suggesting that there is something almost sexual in the gratification he takes from orchestrating destruction. Again, the house is an excellent atmospheric contributor here, we watch them in this scene from above through the banisters. The clandestine vantage point conveys the ease of eavesdropping, and foreshadows that the plot will later be overheard and Hero vindicated.
This is perhaps one of the reasons that the comedy is so loved; its conclusion of a double marriage is all too easily seen as synonymous with the idea that everything turns out alright in the end. Our craving for this outcome is well addressed by Nicholls's Benedick, who promises, "I love you, Beatrice, and I'm going to make everything alright again," before going off to tell Claude what a bell-end he's been. But is it really "alright" that Hero gets hitched to Claudio in the original? I think I needed to see Whedon's modern-setting, original-language version in order to realise that it isn't. The rapacity with which Claudio (Fran Kranz) retracts his feelings for his professed beloved, and the flair with which he takes to self-righteous wallowing, are made all the more repellent by his lounge suit. (By the wearing of which he becomes merely a cretin, and ceases to be excusably symptomatic of a male supremacist age preoccupied with cuckoldry.)
In Nicholls's screenplay, Benedick prepares to read Sonnet 116 in his best man's speech at Claudio's wedding. One phrase in particular becomes inextricable from the way I think about Much Ado. "Love is not love. / Which alters when it alteration finds." By this standard, Claudio's antics certainly aren't. In leaving it highly ambiguous whether she will ever forgive Claude, Nicholls gives his Hero a backbone in rewriting that she can never achieve through direction. A modern-dress film like Whedon's is absolutely essential as a means of investigating the limitations of Shakespeare's script. It's a valuable contributor to the discourse, but, (especially as it involves Beatrice and Benedick!), it probably isn't going to have the last word.