In the midst of the Berlinale madness, it's easy to lose sight of the vast variety of films that are being celebrated across the broad filmic spectrum at this, the epicentre of diverse international cinema. Whilst 2014 marks the 64th Berlinale, it also marks the 28th year of the Teddy Awards, a celebration of international films that examine LGBTI topics. As we live in a world in which queer life is still endangered in many parts of the world, awards that promote tolerance, acceptance and societal equality make the Teddy Awards particularly significant.  Here at the Berlin Film Journal, we've compiled a list of five must see films that are all up for contention for a coveted Berlinale Teddy:
 52 Tuesdays                                                                                                                                
Acclaimed Australian documentary maker, Sophie Hyde, returns to the film festival circuit with her directorial feature debut, 52 Tuesdays, having already picked up the best directing prize at this year's Sundance.The film follows sixteen-year-old Billie, who is struggling to come to terms with the fact that her mother has chosen to undergo reassignment surgery in order to become 'James.' It is a lengthy process, taking a year to complete, and during James' absence, Billie lives begrudgingly with her father Tom, seeing James, as the films title suggests, every Tuesday. As her previous filmic contributions might suggest, 52 Tuesdays adopts a documentary feel that lures the audience into a sense of perceived intimacy with the characters and their various conflicts. This authenticity is enhanced by Hyde's choice to film the scenes chronologically over the space of a year – and only on Tuesdays, each one of the 52 Tuesdays eventually featuring in the finished film. Definitely one to watch.
Papilio Buddha                                                                                                                                    
The only Indian film to make it into this years Berlinale, Papilio Buddha marks director Jayan K. Cherian's debut as a feature filmmaker. A student of Iranian filmmaker Abbas Kiarostami, Cherian's previous work involves several experimental films and shorts including Shape of the Shapeless, Love in the Time of Foreclosure and Hidden Things. Initially banned in India for its scenes of violence and for its scathing critique of Ghandi's legacy, Papilio Buddha had its world premiere in March 2013 at the 27th London Lesbian & Gay Film Festival, organised by the BFI. The narrative unfolds in a fictional Dalit settlement called Meppara and centres around the horrendous atrocities committed against Dalits, women, homosexuals and the environment at large. One of our two main protagonists, Shankaran, a young male Dalit, befriends Jack, a gay American, and helps him catch the rare and beautiful Papilio Buddha butterfly as their relationship, much to Shankaran's fathers dismay, develops romantically, ultimately leading to Shankaran's arrest. Our second protagonist, Manju, is a headstrong women who works as a rickshaw driver, struggling daily to overcome the prejudice of working in a male-dominated career.Political, passionate and arresting, Papilio Buddha refuses to be an undemanding watch, a film dealing with visceral subject matter fused with breath-taking cinematography; it's sure to make its mark both in film history and upon the audience.
Vetrarmorgun (Winter Morning)                                                                                                     
Vetrarmorgun is a short directed in the Faroe Islands by Faroese native Skaris Stora, a member of the Berlinale Talents community since 2010. A chance meeting with renowned American independent filmmaker Jim Jarmush in Reykjavík lay the foundations for Vetrarmorgun, "He [Jarmusch] convinced me I needed to shoot a film in my hometown or get out of the business." Thankfully, Stora listened to Jarmuschs' advice and shot both of his two 'coming-of-age shorts' on his home island of Sandoy. Vetrarmorgun follows two friends, Maria and Birita on an evening of hedonism and deception. When Birita offers Maria some pills, Maria is initially hesitant to take one, but since her mother is out of town, and they are both desperate to have some fun, she gives in and the two ascend into a euphoric state where they begin to plan their escape from their monotonous hometown. Eventually they end up at a party where things begin to take a more sinister turn.A bold and beautifully shot short feature, Vetrarmorgun firmly places Stora on the map as an exciting, young director to look out for. As the follow-up to his short film Summarnátt (Summer Night), Vetrarmorgun looks set to propel Stora into an exhilarating filmmaking career.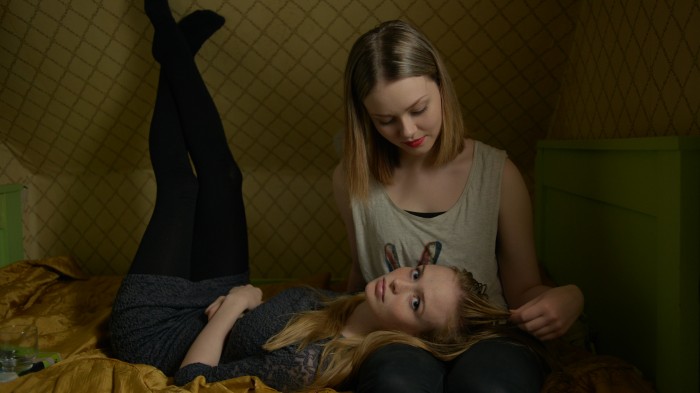 Finding Vivian Maier                                                                                                                           
Director John Maloof chanced upon the fascinating subject matter for his documentary (co-directed with Charlie Siskel) after he fortuitously purchased a box of undeveloped films and negatives that were discovered in an attic. Maloof soon realised he had discovered a veritable treasure trove of extraordinary and astonishing photographs taken of ordinary life in America, akin to the brilliant works of Helen Levitt or Robert Frank. Almost immediately, questions began to circulate about the person behind the lens – one Vivian Maier, a Chicago based nanny who wore male clothing and died alone at the age of 83, never telling a soul about her incredible photographic collection, let alone revealing her latent talents as one of the most important photographers of the 20th century. Maloof's fixation to devour every fact concerning Maier is contagious, keeping the viewer completely enthralled by this most intriguing story. Far from being simply 'Mary Poppins with a camera,' (as one of her charges describes her) the woman behind the camera ultimately becomes even more absorbing than the photographs themselves.
Feliche Chi è Diverso (Happy to be Different)                                                                              
The Italian director Gianni Amelio's lives up to his reputation as an exemplary filmmaker latest documentary Feliche chi è Diverso (Happy to be Different). No stranger to the festival circuit having previously directed Porte Aperte (Open Doors) in 1990, Il ladro di bambini (The Stolen Children) for which he won the Cannes grand jury prize in 1992 and Cosi ridevano (The way we Laughed) in 1998, as well as being on the Venice Film Festival jury in 1992 and the Cannes Film Festival jury in 1995, Feliche chi è Diverso nestles itself nicely into Amelio's impressive film cannon.His latest documentary revolves around the theme of emancipation, giving a detailed queer history of Italy. We are introduced to a mature gay couple from northern Italy who talk about their decades-long relationship. One man who recounts his sexually fulfilled life as a high flying business man (naming several gay politicians as he goes) and one man who discusses the torment of being physically abused by his father for being homosexual. Feliche chi è Diverso cuts through socio-economic and geographical boundaries and provides a beguiling anthropological examination of gay life in Italy from those who lived under Fascism and during the Second World War.
To find out more go to the Teddy Award website here.