Why Cary Grant can still win us over even when playing a murderer.
The recent death of Joan Fontaine made me dig out my copy of Suspicion the 1941 Hitchcock movie, for which she won an Oscar.   Fontaine gives a great performance, but watching it now, it strikes me that it is Cary Grant playing her ne'er do well husband Johnnie Aysgarth who gives the most unsettling performance.  Is he a rogue who needs the love of a good woman to straighten him out or a charming and utterly ruthless sociopath?    The viewer, thanks to Grant's suavely evasive performance, can't be sure, even at the supposedly positive denouement.  But, thanks to Grant's charm, we are like Lina ( Joan Fontaine's character)  ready to give him the benefit of the doubt.  He may be a murderer but he is so winning that somehow doesn't seem to matter that much.
This fundamental ambiguity is at the heart of Cary Grant's enormous resonance on screen.  Although he is always billed as the ultimate Hollywood leading man, the thing about Grant is that actually he is the ultimate screen siren.  From the moment he walks into the frame: whether as Mae West's love object in She Done him Wrong or as the nutty paleontologist in Bringing Up Baby, it's clear that Grant is the flame which no moth or leading lady can resist.  Even when he is playing the jealous husband in I Was a Male War Bride the real joke is that Grant in drag is fundamentally more alluring than any woman.
Hitchcock called Grant his favourite actor.  Grant was the lithe fox to Hitchcock's obsessive hedgehog. With Grant in the leading role, Hitch's sinister obsessions were kept in check – you can't imagine Grant playing the lead in Vertigo.  Cary Grant doesn't get all funny in the head about dead blondes – in a Cary Grant film it's the blondes who lose their cool over him – Eva Marie Saint, Ingrid Bergman, Grace Kelly  – he is irresistible because he is always just out of reach.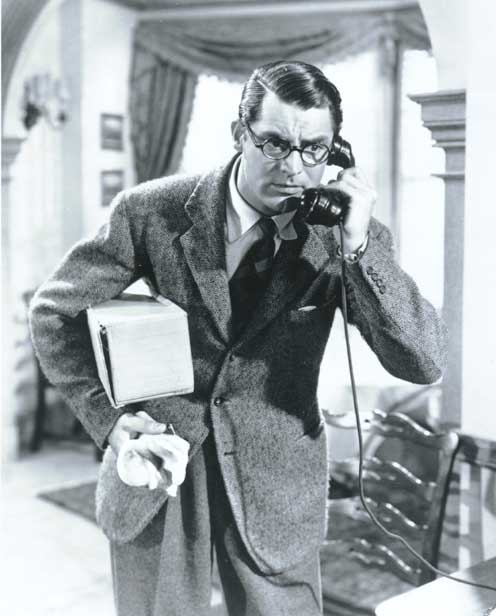 At first glance he is the epitome of smooth, a man who was born in a tuxedo.  Even in the films where he is playing against type like Father Goose – where he plays a grizzled war veteran against Leslie Caron's chic schoolmistress, he manages to bring impossible elegance to his ragged matelot stripes.  Grant is not one of those actors who submerges themselves chameleon like into the part and surfaces remade with each role.  No, Cary Grant is always playing the same urbane, light footed, elusive and always desirable character.  When Irene Dunne emerges from seven years on a desert island with Randolph Scott in My Favourite Wife, there is never any doubt that Grant will ultimately prevail.  Randolph Scott may be handsome charming and athletic but he doesn't have Grant's quality of unpredictability.  Even when Grant has to do sentimental: Affair to Remember, or Penny Serenade he does with a bittersweet edge, delivering the most maudlin lines with a kind of half sneer that undercuts the saccharine.  Even though Grant must have figured in more last reel clinches than most actors, he is always at his most convincing when he is being hunted or persecuted –North by North West or Arsenic and Old Lace than when he is contemplating an interrupted vista of marital bliss.
Perhaps this screen restlessness derives from Grant's complicated origins. Born in Bristol in 1904, Grant grew up believing his mother was dead.  It was only when he was thirty-one that his father told him that she had been confined to an asylum since his early childhood.  Grant went to America when he was sixteen, and became an American citizen in 1942, but on screen he is not quite English or American – there is a patina about him that is ineffable – although Tony Curtis does an imitation of Grant's transatlantic accent in Some Like it Hot.   There is also the question of his sexuality: although Grant was married umpteen times – rumours persist that he was bisexual.  At one point he shared a house with Randolph Scott and the story is that their relationship was more than friendship.  The same kind of rumours float around George Clooney and Tom Cruise.  There is no evidence that either of them are anything but heterosexual, but as with Grant there is perhaps a desire to see them as being all things to all men and all women.  It's the unpredictability factor –Grant is always charming, always desirable, but is he gay or straight, American or English, a man about town or a murderer? It's clear that he is the reason that God invented the dinner jacket, but what is he thinking behind the perfect smile and the raised eyebrow?
He is the man that every man wants to be and every woman and quite a few men desires.  For a star with such a recognizable face and figure, his essence is always just out of reach – even though we know he is a good guy (he's Cary Grant for heaven's sake!), he is perfectly plausible as a murderer in Suspicion or ruthless cat burglar in To Catch a Thief.
Cary Grant never won an Oscar for a movie role, although he did get an honorary .  The reason his skill was never acknowledged by the Academy was that he made it look too easy.  If you don't emote, or put on weight for a role, or make films with a social purpose you aren't going to get the gongs.  But Cary Grant's stellar, ambiguous smile remains floating over Hollywood like the Cheshire Cat's in Alice in Wonderland. As he once said to a journalist, " Everyone wants to be Cary Grant.  Even I want to be Cary Grant."