If someone were to compile a list of the most memorable locations on screen in the last fifty years, where would spring to mind? The apartment blocks of Rear Window? Hogwarts? The turbulent galaxies of Star Wars? I'm going to hazard a guess that not many people would say the dinner table. But they should.
Neon American diner booths, suburban kitchen counters, huge gothic dining rooms: there are few -if any- locations as universally significant as the dinner table. It is a place where bonds are established, family relations played out, and most importantly, we all get some second-hand food porn.
But over time the act of eating on screen has become so ordinary that its ability to convey messages about the films we love and the characters we invest in has been overlooked. Moreover we forget the things it can reveal about our own attitudes to social change throughout history.
Go back to the beginnings of cinema, for instance, and you will find very little food on film: quite literally not a sausage. And why should there be? Cinema was new, it wanted to take us to the moon in Méliè's spaceship; in Godard's words, to create "the most beautiful fraud". In cinema at least, food was off the menu.
This attitude of anti-realism would persist throughout the 20s and 30s, where representations of food became as comically exaggerated as a Roald Dahl novel. Silent classics like The Mad Whirl (1925) and Walking Back (1928) displayed a predictably permissive attitude to drink, with the occasional hungover breakfast. Consumption, as with all things in the jazz age, became a luxurious reflection of the era's inimitable greed.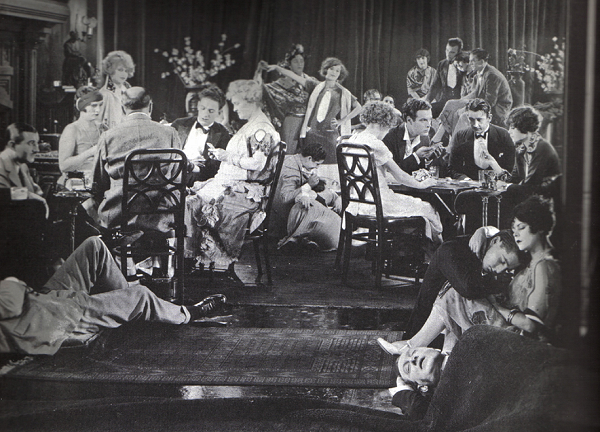 Gin takes no prisoners in The Mad Whirl (1925)
A sea change was coming however on the cusp of wartime austerity. European cinema especially became tinged with dark reflections of everyday life. Fritz Lang's classic M (1931), for instance, opens with a child chanting about a dark man with a "chopper" turning children into ground beef. With a similarly mechanical sense of survival, food had become one of the most potent symbols of suffering, a horribly cyclical reminder of personal and political deficiency. It's little wonder therefore that the most powerfully resonant food culture was to come from the most bountiful land the world had yet known – the USA.
As Hollywood continued to dominate post-war cinema so too did the food culture America exported. Glossy American-style diners and coffee shops spread across London, symbolic of a new kind of prosperity. And the diner equally precipitated the definition of a new mardy figure in the social landscape: the teenager.
Following suit from American films like The Wild One (1953), in which cafes intersect with Brando's rebellious life on the road, the teen era closely intertwined new fast foods with similarly fast living. Such tropes would later be revisited with nostalgia in George Lucas's near-perfect American Graffiti (1973).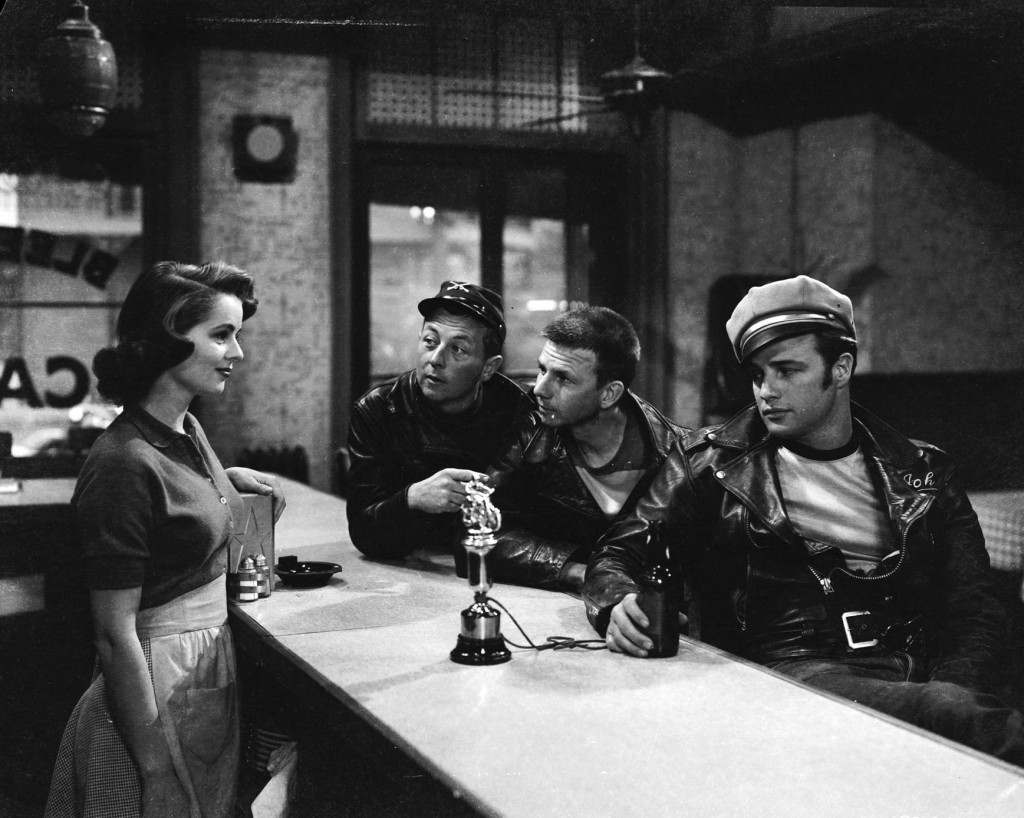 Biker cafes were hunting grounds for rebel teens, such as Frank's cafe in The Wild One (1953)
But while Americans sipped their sodas, across the pond the so-called Angry Young Men were producing gritty realist tales with their own British stamp on food culture. The borstal depicted in The Loneliness of the Long Distance Runner (1962) shows a similarly young protagonist struggle to adapt to cruel deprivation and grim-looking food, all with an absurd sense of injustice.
It was these currents of absurdity would prevail in representations of food throughout the 60s and 70s. It was an attitude still of post-war prosperity, but tinged with un-American madness, such as Kubrick's own humorous food moment in A Clockwork Orange (1971) when Alexander is ironically spoon-fed by an apologetic diplomat. The combination of realism and absurd reverie in regards to food has remained a common theme in the work of Lynch, Tarantino and Romero, to name but a few.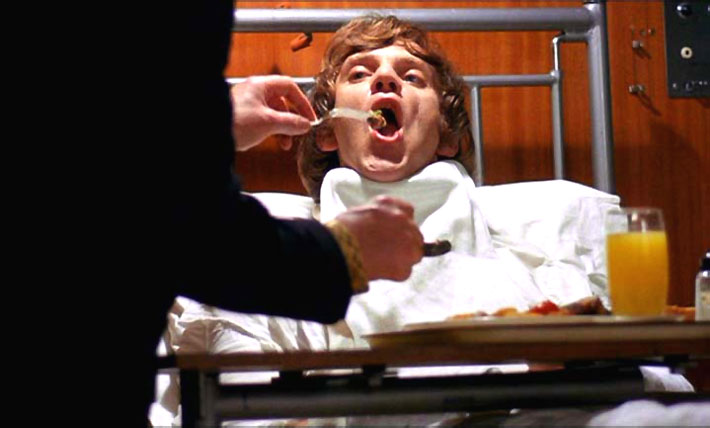 Alex swallows lies in A Clockwork Orange (1971)
But whether treated heavily or lightly one central aspect has remained the same; that food is now an intrinsic part of building narrative, from character exposition to power dynamics and dramatic tension.
Who could forget the knuckle-bitingly tense exchange between Shoshanna Dreyfus and SS Captain Hans Landa over a Danish pastry in Inglourious Basterds (2009)?  Never has whipped cream been so symbolic. Elsewhere, mealtimes establish family order (The Sopranos, American Beauty), distracts from marital secrets (Breaking Bad) – it even transforms parents into greedy pigs (Spirited Away).
Eating has therefore become a dramatic ritual; revealing and taking away, keeping us guessing and yet also solidifying our position as witness to an ongoing performance. To be rewarded we must be patient, to truly understand we must partake in it. From Los Pollos Hermanos to the "Royale with cheese", food has redefined the way we watch cinematic stories unfold.