To be clear, the TIFF I'll be covering here is the one whose poster child is Dracula, not the Maple Leaf. And if The Dark Prince were still around today, he'd change his diet from hemoglobin to celluloid over the course of these ten festival days. The artistic director's picks are just that delicious, in just that deeply troubled way that appeals to the night crawlers and the truly obsessed.
With well over 200 movies to see (feasibly, only about 40 per capita, considering theater-to-theater teleportation isn't yet an option), the Cluj festival Transylvania IFF, or TIFF for short, will be keeping me busy, dawn to dusk, through to next Sunday. It's been the highlight of Romanian movie buffs' summer going on 12 years now, and its 13th outing looks just as promising as the previous, minor financial hurdles notwithstanding. Though the rain did put a damper on the kick-off ceremony yesterday – set to be held in the large, accommodating square in the city center, it ended up unevenly split between two theaters – the opening remarks were short and painless, letting the movies take center stage. The Oscar-nominated Philomena broke the ice first, the right way to go, but a bit safe by TIFF's (self-imposed over the years) standards, and mine.
To start things off, two movies that caught my eye today:
20,000 Days on Earth – The well-rounded Nick Cave, rock star, novelist, director and actor, stars as himself in this tightly-scripted (partially by himself) documentary about his time spent among us mortals. Time well spent on fostering an impressive creative flow, if sometimes interrupted mid-stream by the various engagements that form the appanage of celebrity. As he digs up his trail in an archive chock-full of more-or-less private photos, the film fills in the blanks with concert footage and chats with old collaborators, only adding to the larger-than-life image we'd already had of the artist.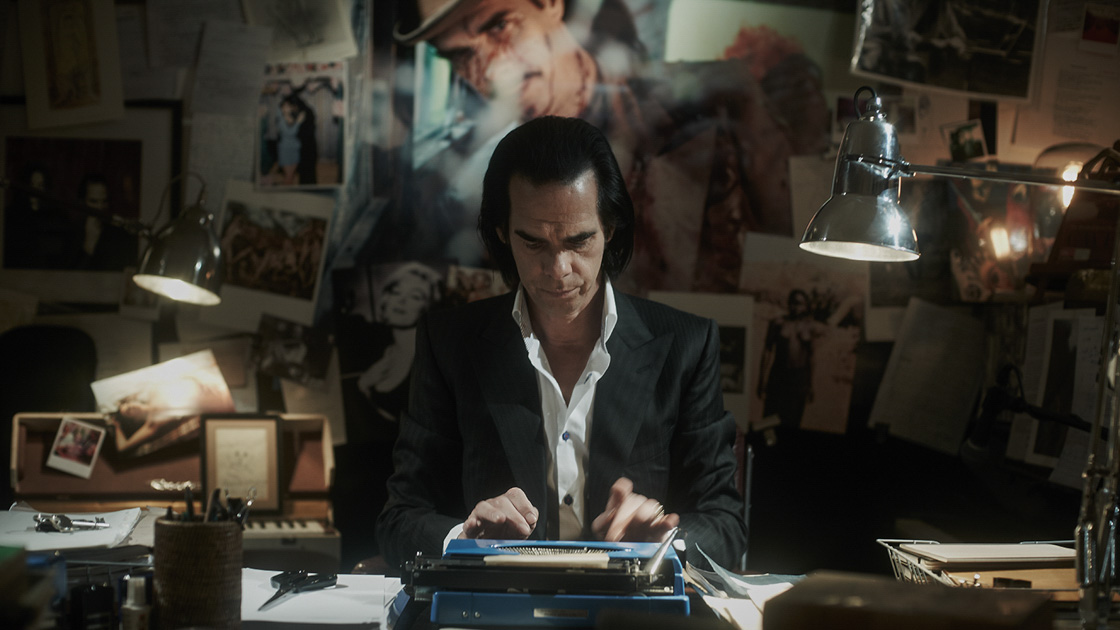 The deft directorial hands of Iain Forsyth and Jane Pollard weave both highlights from his life so far and intimate shots from his home and studio into the story, availing themselves of Cave's well-spoken philosophy on just about anything, and a few of his present-day gigs, for extra spice. Revealing artist-to-artist dialogues, frank and nostalgic cameos, and insightful monologues come together seamlessly, to paint the picture of a man haunted by those memories "that change the gears of the heart" and that he's "mythologizing" through his songs. It will come as no wonder to anyone watching this to learn it picked up the Editing and Directing Awards at Sundance earlier this year. Infinitely quotable, this is one documentary you can't afford to miss.
Las horas muertas – This slow-paced coming-of-age story, written and directed by Aarón Fernández Lesur, packed the theater, and with good reason. Young Sebastián's managerial stint at his uncle's by-the-hour motel is filled with exactly what the title "warns" about, empty hours. Running quietly at idle, he smirks at the loud goings-on wafting out from his night-time customers' rooms – only to take an interest in it soon after. He's a smart 17-year-old who could grow into a worthy successor to his uncle's business, but the film is more concerned with him maturing into a man – which is where Miranda, a soon-to-be motel regular who uses its services with her married lover, comes in. Played by Adriana Paz with equal parts poise, self-confidence and frustration, when she's not at the Palma Real, she's also killing time as a real-estate marketer at a condo complex.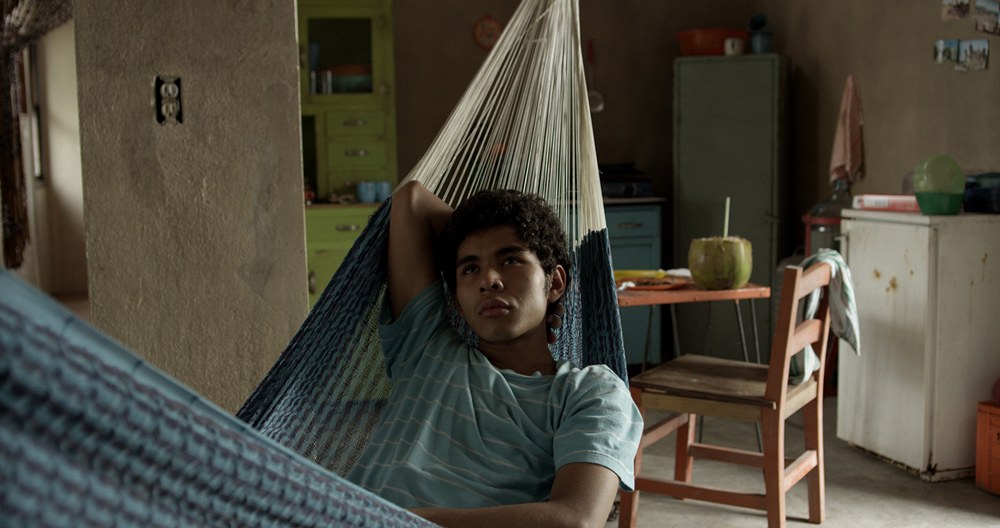 Set on the Mexican shore, the movie might feel a smidgen too long by the time the credits start to roll, but it's earned its spot here through the sweet, if done before, blend of fine-tuned youthful candor and superb photography. Still, if Sebastián's simple life, that still yields drama here and there, through air-headed employees, coconut robbery and a playful crush, has some staying power, it's probably down to the Miranda's once bright, now flickering light shining on what's important. The boy might not figure it all out by the end, but he's more a man for having met her.
28 ½ – The first German film to be projected here, in the New German Film section, and billed as a world premiere no less, was a mind-bending docu-drama that dffb student Anton Gonopolski shot around a major competition for artsy children in Russia. The loose narrative centers on Apollo, a German whose trip to Samara comes on the back of a letter he got from his child, Sasha, informing him of his existence. Language barriers are quickly disposed of by means of both English and German, making room for a stop-and-go pursuit that never actually goes anywhere. It's the land of the absurd and of the dreamscape, of the traveling plaster zebra and of balloons that need inflating mid-conversation.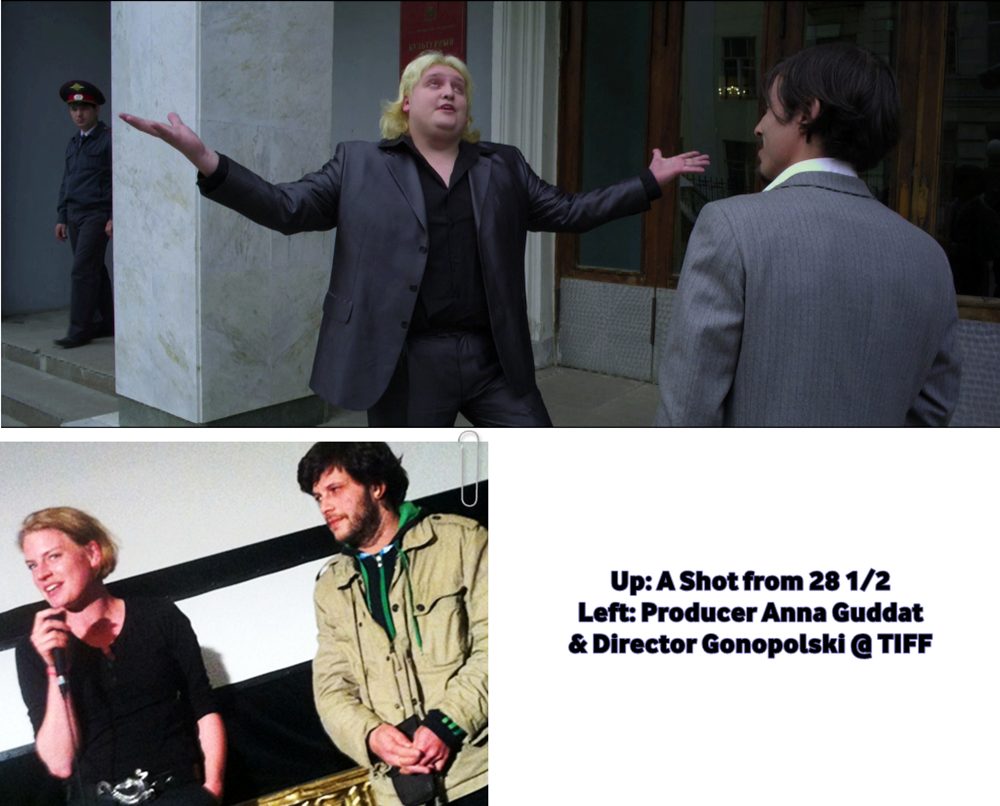 The communist-size competition venue is home to a great many acts, some interspersed throughout the story, keeping me poised somewhere between amusement and horror, not unlike the time I saw Living Dolls. These scenes, featuring anything you can imagine, from b-boys to double-jointed girls, would get a lot of traction on YouTube. The director couldn't quite explain his bizarre, not altogether bad, choices at the Q&A session and, when I caught up with him afterwards, he shrugged off my bewilderment and left it at that. I suppose that's in keeping with the Millennial Gen ethos. Oh and, did I mention the characters break into operatic song every so often?
Lastly, if you want to get the pulse of the festival's industry-centered activities, in real time, check out FilmoFilia, where I'll be covering some of the press conferences and masterclasses.