The story written by Bryan Lee O'Malley and later adapted by the director Edgar Wright tell us a part of the life of young Scott Pilgrim, Michael Cera, who is a young adult or grown up teenager and bass player of Sex-Bob-Omb, a band struggling to become the next world success. That is, until he meets Ramona, a girl who he envisions in a dream and falls immediately in love with, distracting himself from the music and fighting again her evil exes.
Whatever happened to the Teenage Dream?
In Scott Pilgrim vs The World everyone wants to be special with their own unique personality. Scott is just a boy in distress picking up the pieces after a terrible break up that took place nearly a year ago with Envy Adams (now the new underground pop-icon). Scott is just the bass player of a local band with shaggy hair, the typical underdog with a lack of self-respect, who falls in love starting a hard and long road to get that special girl and live happily ever after.
He is not just fighting against Ramona's seven evil exes, but the whole music industry hypocrisy led by infamous corporate CEO and New Yorker Gideon, head of the most important underground music record label. In the end he can be presumed to represent every kind of hypocrisy in this world.
The film concentrates primarily into the main story with very small subplots that tend to take part almost directly within Scott's adventure. Most of the characters act and think alike as they are part of a mass that thinks that they don't belong. This is one of the ironies found in the film but also in real life where we can easily relate it with people and groups crying for attention -hence it was accurate from the studios to give this film to Edgar Wright whose films are covered with sarcasm.
Hipsters are trendy now, what other people see in those stylish vintage lovers is the same irony that Wright bestows his film with: people thinking they are out of the ordinary by consuming and reproducing a cultural accepted model. The true hero in this story should be whoever is truly honest and open accepting his errors and others. Scott Pilgrim does exactly that when facing Gideon, realizing he should not fight just for Ramona but also for himself, he confess to Ramona and his girlfriend Knives that he has been cheating on them with each other, learning the most powerful weapon: self-respect. After defeating Gideon he must clash against NegaScott with whom, unexpectedly or not, he gets along with, when trying to truly understand each other no prejudice.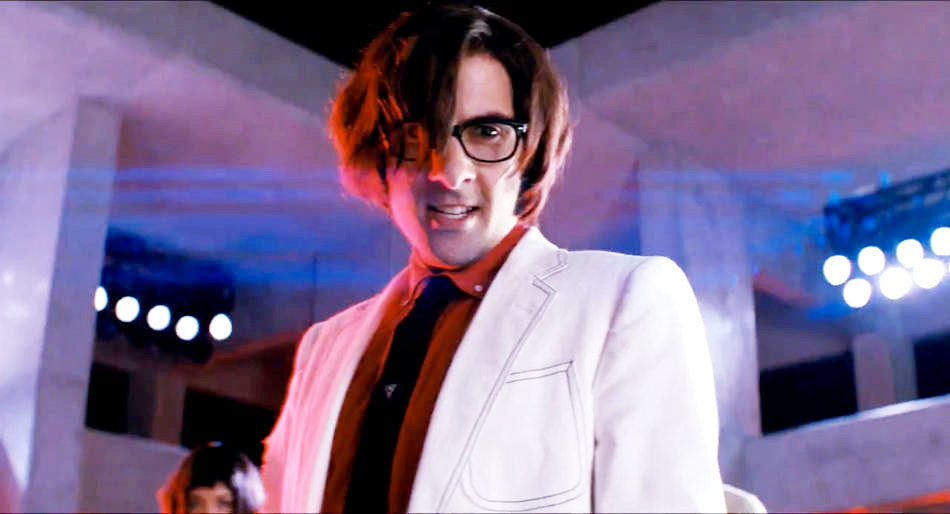 The Archetypes
In a film about youngsters, parents are usually the figure of authority who impose the law and the limits for the teenagers to break, In Scott Pilgrim vs The World there are none on screen, they are just mentioned by Knives who, with her friend, are the only underage characters. Though everyone live by a social structure that is totally respected and the only figures of authority are just three, Michael Comeau, the oldest person around, just twenty-five who knows everyone, the wise one; The Vegan Police who take out the psychokinetic powers from Envy's bass player and ultimately, Gideon who has the power to make anyone a great rock-star from the underground.
Most of the characters live unhappily, apathetic or worse, in contempt. At the beginning only Scott and his new young girlfriend, Knives, seem to be happy together and of course, Scott's gay roommate, Wallace who likes just two things, dating and gossiping. Scott's younger sister, Stacey, doesn't approve of her older brother's lifestyle but whilst she is constantly reproaching everything that he does, her friend Julie Powers, maybe the most unhappy character in the whole story, always complaining about everything but never getting any fun.
As for the members of the Sex bob-omb, Kim, the drum player, is still upset with Scott for what happened during high school when they dated; Stephen Stills, the leader is always fearing the worst about their music and gigs when he is supposed to be the talent and therefore the most self-assured character, but once again, there is the irony that the film is treated with. There is a significant detail about Stephen mentioned by the author, Bryan Lee O'Malley, that he is homosexual and it is probably that he doesn't know himself quite well yet and perhaps the most important reason for his indecisiveness.
Probably, the most apathetic character is Young Neil who coincidentally is the biggest fan of the band besides a big gamer. He never shows any emotion whatsoever and even when he is approached by Scott's ex to date he doesn't even have a slight momentary doubt about the ethical issue that consist on dating a friend's former girlfriend. The best way to explain his apathy is the first dialogue that he has with Knives, when she asks him at a Sex Bob-Omb rehearsal what he plays to which he replies: "Wow, ummm… Zelda… Tetris… that's kind of a big question".
After Envy's concert, Scott and his crew are invited to the backstage, Knives is thriving with emotion, she is in the same room with her rock idol and we all heard about the marvellous things that happen behind that door but the situation is just dull. Both parties are facing each other in silent despair, not happy with themselves or anything. "What Happened to Teenage dream, man?"
Am I cool enough for you?
Underground music is supposed to be free of any commercial contamination from corporations and marketing, or at least is what we used to think about a time when experimentation was cool and bands only had a catchy name and a garage to rehearse in. In a non-social media era a distinctive sound was the key to be identified and follow. Nowadays every band has their Facebook and Twitter account with photos and cool designs, and some of them might be real thing, but there is a huge majority of clones that sound alike who just want to adjust their music to what is saleable. Gideon is not just a character from a movie and bands like Sex Bob-Omb exist in real life. The context where Scott Pilgrim vs The World takes place is not exaggerated, it is the plain truth. "We are Sex Bob-Omb and we are here to make you think about death and get sad and stuff."