In an unsurprisingly down-to-earth move by the Dardenne brothers, Belgium's horse in next year's Oscar race, Two Days, One Night, plumbs the dark depths of the human soul under pressure, this time placing it against the callous background of financial insecurity that still sweeps the Eurozone high and low. What it begets proves hard to sit through, but every once in a while the movie's human kindness-dappled storyline rewards the viewer with the sought-for silver lining that's so precious in these longtime cloudy days.
Set in Belgium, the Belgian-French-Italian coproduction deals in desperation, that familiar, rising kind that's sweeping across the world in the wake of the economic meltdown. While optimistic reports are coming in from news outlets, the lay of the ground is still bleak, a hotbed of fear and distress which strong, centered working people can barely negotiate while clinging tooth and nail to their job and their soul at the same time. Sandra (Marion Cotillard), however, is a nervous wreck and, as such, her world is thrown severely out of kilter when she learns, on a Friday, that her livelihood hangs in the balance and her executioners might just be her fellow staffers. As a friend and coworker convinces the solar-panel plant boss to readdress, via secret vote, the decision of sacking their struggling colleague, Sandra faces a daunting weekend where she'll have to race against time, spieling off speech after speech to convince each and every voter of her competency. A platform she doesn't believe in herself.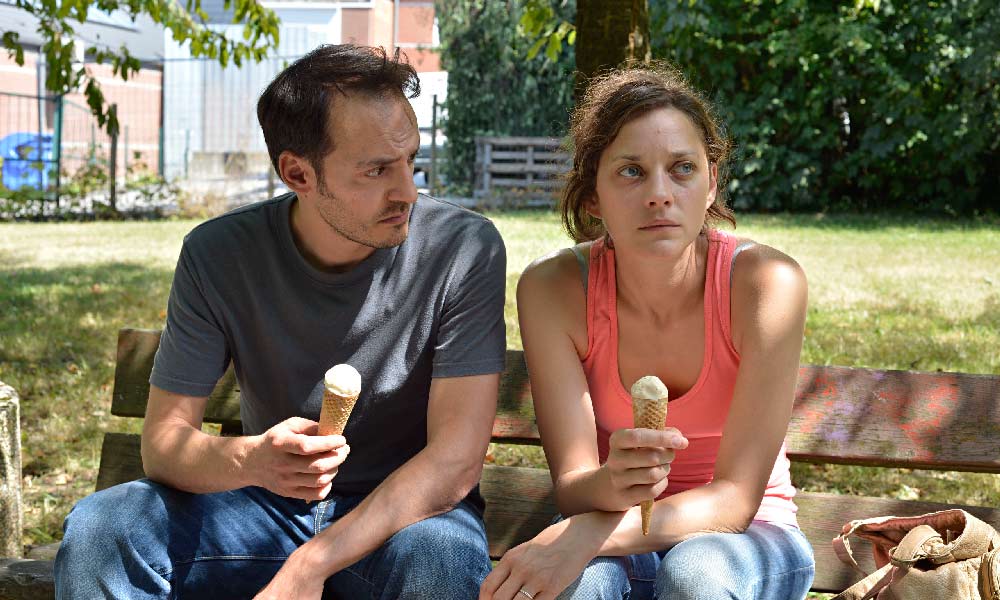 Cotillard, in average-Jane getup and a scrunchy, as riveting here without makeup as she's ever been with, never even inches out of the Dardennes' focus over the following two days and one night spent on the stump – letting us into every aspect of Sandra's life, one which she's barely just managed to regain control over after a period of depression. Instantly relatable to anyone who's ever had to jump through the hoops of capitalism, we can read Sandra's face like an open book, her furrowed brow and doe-eyed, debilitating fear so evidently an upshot of low self-esteem that, to look at her, a fellow introvert shudders with empathy. This isn't a woman who thrives on the obstacle course of a literally by-the-numbers system – she needs to convince her coworkers to forego a 1,000-euro bonus so that she might be kept on – and her efforts to curry favor with the flexible spine of free enterprise appear gargantuan and heroic as a result. In other words, she now knows exactly what she's worth, courtesy of a soul-crushing number-crunching corporation, and what's as disturbing as it is common, is that her looming mortgage payments and day-to-day expenses are prevailing on her to resign herself to this topsy-turvy value system.
Contrary to pretty much every life-hacking, motivational, self-help book out there, some people might just not be easy converts to the can-do mindset required by our current times. And, as a social comment (on how inimical market forces can be to the frailer individual, given to self-effacing and predisposed to hyper-sensibility, a.k.a. weakness), Deux Jours… soars as high as a lower-keyed, grassroots-relevant Wolf of Wall Street. And it's all thanks to this insidious, "disgusting," as the protagonist puts it, trade-off: every one of Sandra's unsolicited, awkward stopovers reveals deeply personal, but dovetailing to an extent, middle class woes and anxieties, revealing how a 1K windfall can go a long way to covering one year's worth of electricity and gas, or of scraping by without moonlighting on the black-market. All at the cost of one friend… whom you can, after all, un-friend just by ignoring the doorbell. Acts of unspeakable cruelty are now, through years of selfishness bred by unmet needs, just par for the course.
Thankfully, Sandra gets to see, in restorative dribs and drabs, that the toll of having her on their conscience proves too much burden for some, like the young Timo (Timur Magomedgadzhiev) whom Sandra's almost passionless plea still reduces to tears, when he remembers the helping hand she once extended him, or fixed-term worker Alphonse (Serge Koto) who, despite his shaky position on the company totem pole, balks at the un-Christian thought of cashing in on the misery of thy neighbor. The proverbial root of all evil brings out the worst in others, who turn their backs on her as if she were a beggar or a thief, but it also forces some, like Christelle Cornil's Anne, to take stock of their lives and brings about decisions that were a long time coming.
On the back of these one-on-one meetings, Sandra comes out tougher-skinned and hopeful against all odds, which the helmers convey gradually, through slight changes in her tone, posture and the wording of her pitch, tweaked from one stop to the next. It's indeed hard to shake the first haunting sight of Sandra's curled-up escapist posture in the upstairs bed that fostered her depression – but, bit by bit, with every new voter coaxed on board, the auteurs reassure us that hers won't be a Pyrrhic victory, if she even ends up carrying the day, because, as she tells her husband with a beaming smile after all's been said and done, "We put up a good fight. I'm happy."
The fight to part people of their money would indeed have been the devil's own job whatever the country, the context, or the actors involved, but it's Sandra's attendant redemption that shines through here. Cotillard gingerly, all but mutedly, empowers her character, hones her persuasion skills, turning a soft-spoken, self-effacing mother of two who's popping tranqs to keep paralyzing panic attacks at bay, into a dogged underdog reclaiming one of the few remaining rights employees are entitled to anymore. The right to her day in court: to argue her case and not accept a fast-tracked dismissal as a fait accompli.
Caught in the headlights of looming unemployment right alongside her is Manu, her husband, crutch, champion and savior, played by Dardenne darling Fabrizio Rongione. When Sandra is reluctant to kick up a storm, he's there to drive her from door to door, to play up her strengths and pump her up, again and again, like a coach, supportive to a fault – insofar as Sandra even suspects him of feeling sorry for her, not love, not anymore. And, like a storybook hero, she enlists other helpers along the way, making this weekend trudge not just a fight for survival, but also an epiphanic journey.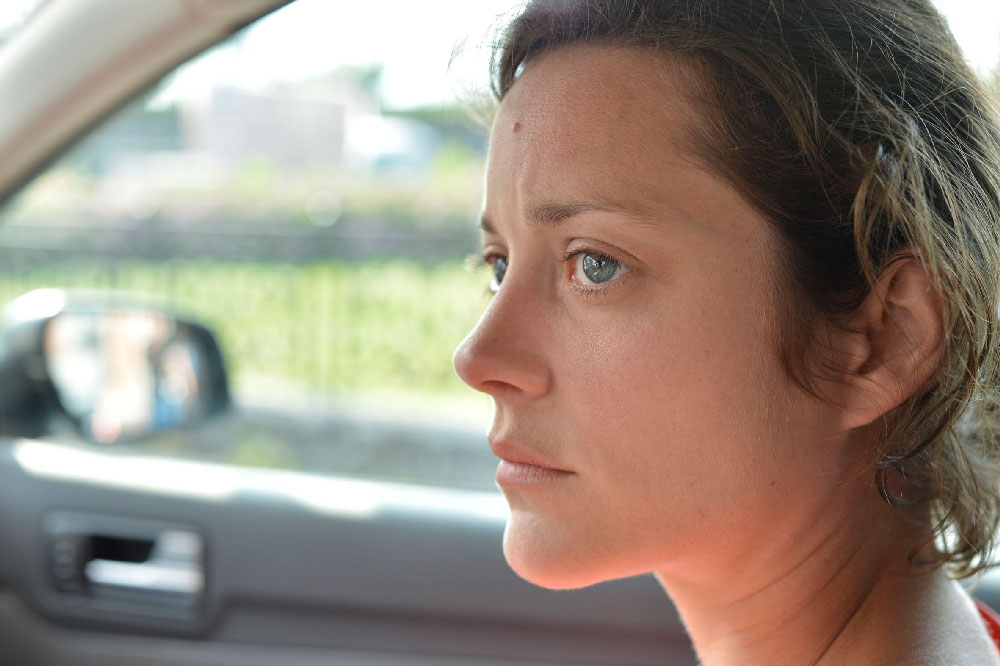 Standing one's ground, as it turns out, is harder and harder to do when dire worldwide circumstances shift moral boundaries and make common decency obsolete, but the Dardenne brothers show us that all is not lost and there is still strength in numbers. The only thing is, nowadays the adage is less likely to describe the transformative power of the people, than the power of the individual to push ahead with the help of some well-meaning few.