Calling American writer/director Damien Chazelle's "Whiplash" the sadomasochistic version of "Dead Poets Society" is certainly an oversimplification. But they do both feature a talented, aspiring artist motivated by a driven, passionate mentor. Only in this case the story is set in the circle of competitive jazz bands and instead of being nurturing, the teacher-student relationship portrayed is all kinds of abusive.
Directed by: Damien Chazelle
Running time: 106 minutes
Centered around the young drummer Andrew (Miles Teller), who's desperately trying to make it in the jazz band of his conservatory, the screenplay isn't particularly subtle in its writing, especially when it comes to crafting dialogue outside the musical arena- a dinner scene that bluntly demonizes every un-jazz-savvy family member of the protagonist comes to mind. But it's based on refreshing, convention-defying ideas which it explores to their merciless end. For one, it takes a look at the unbelievable, sometimes debilitating work that goes into becoming somebody on the concert stage. Through a series of swift and publicly humiliating replacements within the band, we're soon reminded of how elusive the notion of glamour or the association of cultured elegance are in this context, and just how brutally real the necessity to constantly prove yourself is.
An even more interesting aspect of the story is of course the dynamic between the newbie and the monstrous bandmaster Fletcher (J.K. Simmons). Throwing all clichés about the inspirational educator out of the window, this weathered, volatile, incredibly mean musician shows no inkling of attachment to his underlings. He makes it very clear they're but the vessels for his vision and he has no time for a leaky vessel. Exercising every form of psychological torture on the band members without blinking an eye, this character is a fascinating creation who finally meets his match near the end of the film, when the disgraced disciple comes back with a vengeance and all bets are off.
Indeed, what makes this movie a brilliant character study is how readily unlikable it paints its protagonists. On the one side is the man put in charge of training, guiding a new generation of players but who embraces that task with such a militant attitude it borders on terrorism. And just when a tragic incident or an impassioned speech during an after-work drink lets you think there's a soft core inside this ruthless dictator after all, the script actually bends it backward again with yet more twists that reveal an even darker side to a personality utterly, beguilingly unknowable. In the other corner is the bright-eyed and bitterly tormented boy who starts out like your typical sympathy figure, only to surprise you later with the depths of his obsession and an almost twisted greed for success. Playing with such forceful, compellingly vile characters and leaving no room for common decency, the movie spins into a thrilling mind game in its all-out crazy finale which might not seem entirely plausible in its outcome but nevertheless electrifies with its energy and the sheer unpredictability of how things will go down.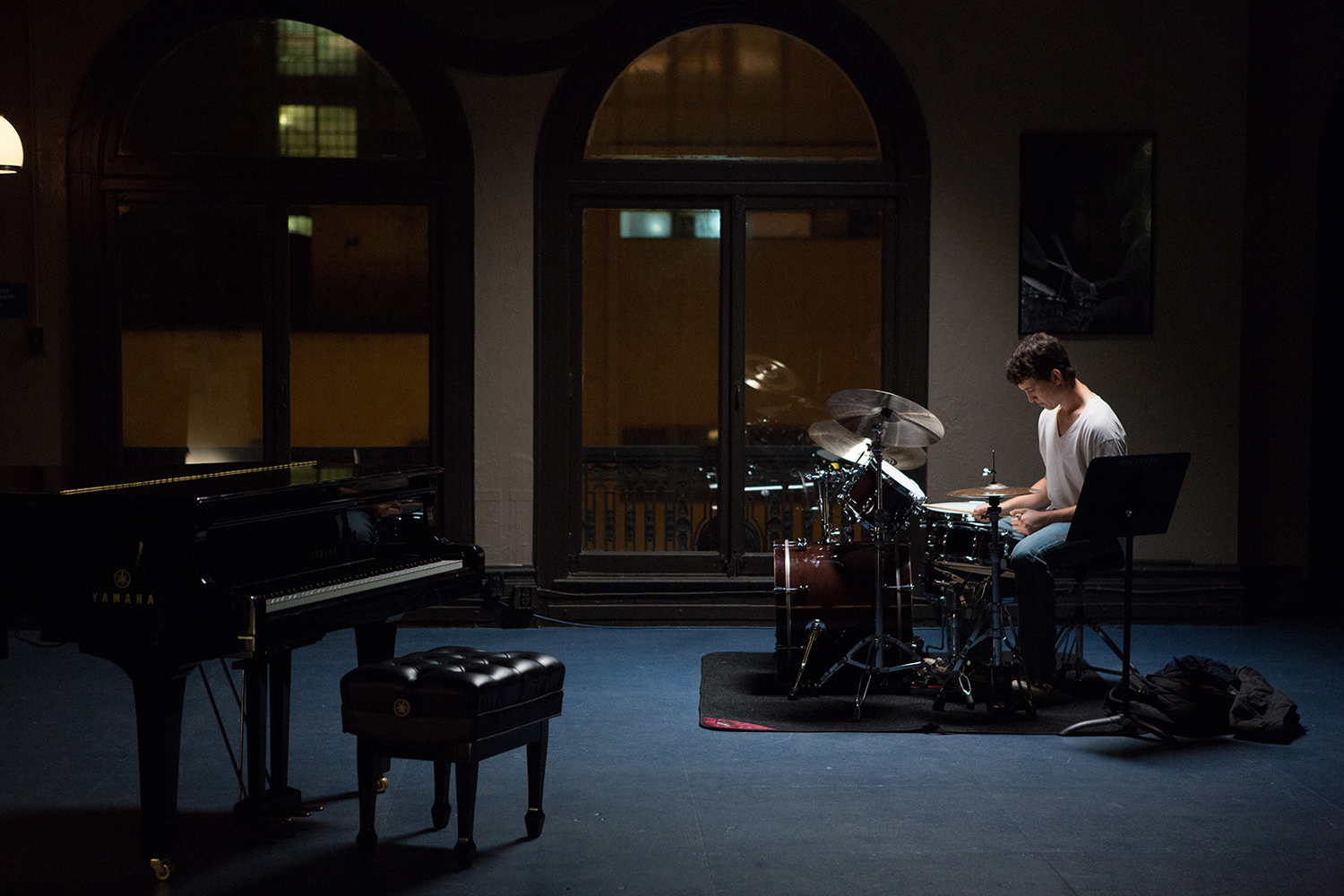 The terrific acting duo of Teller and Simmons infuses the lively antagonism between coach and pupil with practically combustible fuel. As the ambitious and furiously single-minded Andrew, Teller shows, if not enough nuance, such intense vigor and burning you not only believe the sweat, blood, spit and tears flying off him and onto the drum kit are real, you can almost feel them. And in those breathtakingly quiet moments before the first drumbeat drops on stage, the screen is as much stretched tight by the sonic anticipation as by the weight of his concentration. Simmons is frightening and mesmerizing as the conductor, general, God of the troupe. As natural as he is barking obscenities or welling up at a memory, he truly shines when he's only acting with his eyes, fingertips and the slightest flicks of his wrists. It's the lack of flamboyance and the Swiss-watch precision of his movements that sell someone who's seen and heard it all, who's too good at and too sure of what he does to waste any second on unworthy sounds. From idolized reverence to murderous hostility, the two of them share a dance through the emotions that's never less than riveting to watch.
The movie is not without its faults. As mentioned above, the screenwriting is rough at times and the ending has believability issues. And while it's a great touch for Chazelle to try to visually reconstruct jazz using free-flowing, very spontaneous shots and cuts, the editing can appear a little manic, unnecessarily erratic in places. But overall, this is something so violently alive it can't help but be exciting. Plus a soundtrack as cool and groovy as that, and one could even be forgiven for falling in love with this enthralling, fervent imperfection.