Turkish epic drama "Kış Uykusu (Winter Sleep)", the winner of the Palme d'Or at this year's Cannes Film Festival, lives up to its title in more sense than one. It's a mostly chill, sedate affair that unfolds at its own pace, it's optically often accompanied by snow or a misty white. Most importantly, sitting through the film really does feel like spending and then waking up from hibernation, as drawn out and somewhat dream-like as the experience is. Whether or not this also means it's an inspiring, enjoyable or even worthwhile time spent at the cinema is another question.
Directed by: Nuri Bilge Ceylan
Running time: 196 minutes
A plot summary in this case would be difficult because making up the film's hipbone-flattening 196-minute running time are actually rounds and rounds of discussions between the characters on a variety of subjects. There are expository interludes showcasing the sprawling landscape of Anatolia or its wildlife, but they mainly serve as intermissions between the talks and are thus, as gorgeous as they often look, largely superfluous from a storytelling point of view. But talk the people in this film certainly do. The male protagonist Aydin (Haluk Bilginer) is a well-to-do hotelier and landlord who used to be an actor and is now also a columnist/ aspiring author. What first prompted the series of reflections on his part is a rock-throwing incident initiated by the young son of one of his tenants Ismail (Nejat Isler), who's behind on rent and expropriated, and humiliated accordingly. A visit to the child's home expecting reconciliation not only doesn't offer the rich man closure but further aggravates the emotionally unstable Ismail who's just recently been released from jail.
From there on it's basically one prolonged scene of debate after another. Aydin discusses with his younger wife Nihal (Melisa Sözen) about the right time for charity. Aydin's divorced sister Necla (Demet Akbag) proposes the theory that not defending oneself against vice is the way to correct wrong and make right. The two women argue about self-deception, forgiveness and shame. The two siblings fight about the virtues of thinking versus doing. It's not long before one gets the feeling this is a family that can just sit around the breakfast table and find the tiniest cause for a major philosophical discourse. Meanwhile the themes of their elaborations can't be easily embedded in an organic whole and the thought processes themselves often follow a loose, stream-of-consciousness so they can come across as pretty arbitrary, ostentatious, even banal. At one point a character accuses another of watching too much soap opera, which sounds like an unintentionally accurate attack on the film's overly stretched and immoderately dramatized writing.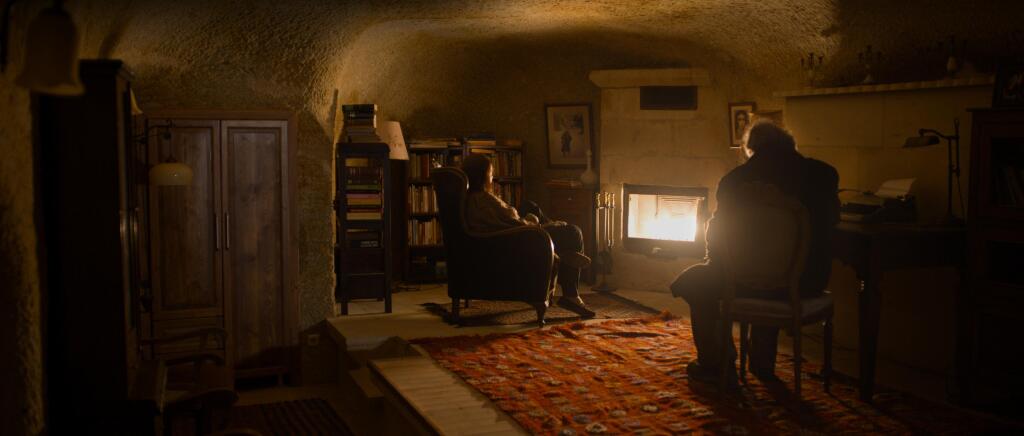 Paradoxically enough, the one thing that most conceivably justifies the awarding of the Palme d'Or, a hypnotic pull of the film that lulls you into a meditative trance, stems most likely also from the ceaseless conversations. The constant outpour of words, as random as they might seem individually, and especially the implied stringent commitment to critical thinking on their writer's part, give the picture not just the obvious air of cultivation, but an internal grandeur, a serious-minded majesty. Aggregately this intense communication of ideas stimulates and appeases the human need to be understood much in the way of Richard Linklater's "Before…"-trilogy, although to those allergic to too much dialogue in movies, this would probably seem like Céline and Jesse on steroids duking it out on every existential issue there is; in short, an interminable torture.
The fineness of the filmmaking itself here is beyond doubt. Shot predominantly indoors, the camera placement is precise in its evocative choice of angles, its movement slight but graceful, The exteriors, whether of railway swept by blizzard, graveyard covered in fog or housing nestled within rocky topography, are not only beautiful to look at, but provide via their contrast to the dimly lit living quarters a vivid reminder of the tirelessly contended theme of good versus evil. Director Nuri Bilge Ceylan is an elegant storyteller with many things to say. His determination and patience to let it all out in one go might well prove too hardcore for the general movie-going public, but if one needs any proof that he could also shoot concise, emotionally poignant scenes without resorting to a dictionary's worth of vocabulary, one must look no further than a scene late in the film where Nihal pays a visit to Ismail's house to make an unexpected offer, where the most interesting exchange probably takes place through camera and body language.
Acting-wise, everyone in the principal cast is solid, led by an assured but brilliantly weary Bilginer. Playing someone who has fought his whole life to get to where he is, he shows an ease in countenance and an unapologetic conviction in mentality that's very persuasive. Sözen and Akbag may not be as compelling, inherently limited by more confined character arcs, but they both bring repose and intellect to their roles that make their eloquence, if still affected at times, not all-out preposterous. With even less screen time but nonetheless impressive is Isler, whose pained glances, pregnant with indictment, are part of the reason for the success of the aforementioned scene of few words.
In all, "Winter Sleep" is a technically refined, well performed chamber piece featuring certifiably chatty characters who rub bubbles out of anything and everything. Its intentions are admirable, but with an unrealistically wide aim and a compulsively verbal approach, the desperation a viewer feels when he checks to find there are still hours on the clock is also very real. However elevated the language and tasteful the execution, you know there's a problem with a movie this high-minded when every time the clueless Japanese tourist turns up to make lighthearted, grammatically incorrect chitchat in between perfectly penned speeches, all you feel in the dark is grateful.