In his sixth feature-length effort, Sebastián Silva presents us with this year's Teddy Award winner for best feature film: Nasty Baby. The film depicts a world of affable and fun characters you enjoy being around, however the film's final act takes a callous and sinister turn you won't see coming, which inquires as many questions of the audience as it does of its characters.
Director: Sebastian Silva, 100 mins
Set in Brooklyn, the writer/director stars in the film as Freddy, a visual artist living with his boyfriend, Mo (Tunde Adebimpe), and attempting to have a baby with their best friend, Polly (Kristen Wiig). As Freddy works on his video installation (also entitled Nasty Baby) of him and his friends emulating babies, his obsession begins to grow. Unfortunately, Freddy doesn't have the sperm count to seal the deal, and his desire to become a father increases day by day. Polly, too, is becoming desperate for a new sperm donor, and the two resort to an unsuspectedly reluctant candidate: Mo.
As if the trio didn't have enough on their plates, they begin to be harassed by a coarse neighbour known only as The Bishop, a seemingly harmless, yet mentally unstable character (Reg E. Cathey) who starts running his noisy leaf blower at the wee hours of the morning, and accosting neighbours, including Polly, on their block. A minor scuffle between neighbours ensues that quickly escalates.
"Nasty Baby" is brimming with conflict, be it Mo's reluctance to become a father or the prejudices a multi-racial gay couple faces when trying to have a baby. A salient scene shows Mo's family having a bigger problem than anyone else with the unconventional idea of a baby growing up with three parental figures. Silva softly projects the notion that people who live in politically-correct areas, such as Brooklyn, naturally assume that everyone has the same ideals.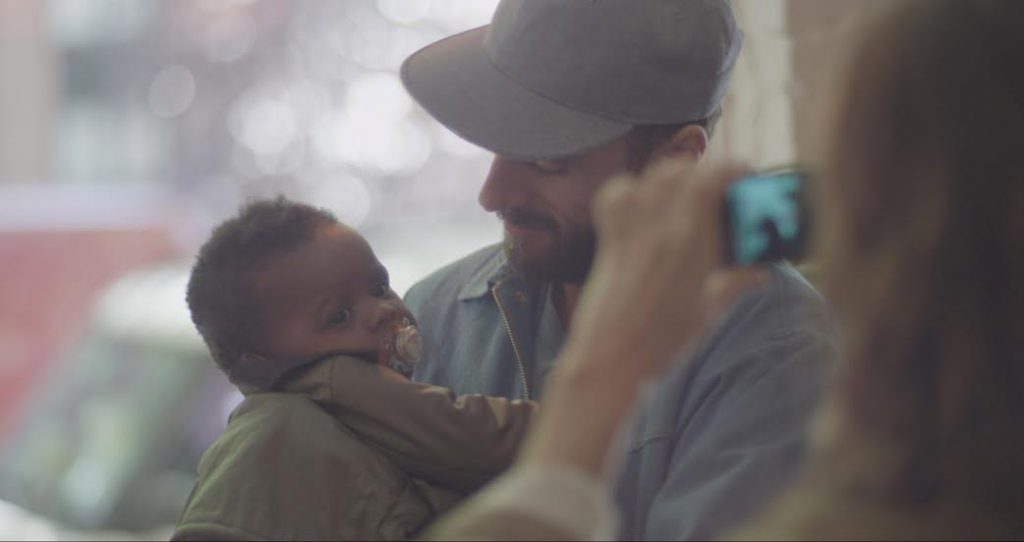 'Nasty Baby'
The moral of Silva's tale, however, is that when people are committed to each other, there's nothing they won't do to protect the one they love – which is something that's tested in a brutal way as the climax forces the film into a strange and dark territory.
The main characters are extremely well-written, and the performers portraying them make them even more dynamic. Freddy's enthusiasm for art and his casual attitude towards life are presented brilliantly by Silva, making him eminently likeable. The same goes for Adebimpe, with a more robust approach to his character, he annihilates all the gay stereotypes Hollywood constantly bombards us with. The relationship between the two is perfectly balanced out; Mo is the rock to the sometimes volatile Freddy. Silva's improvisatory approach to the script suits Wiig tremendously who seems truly at home in this environment, adapting her cadence and tone to the relaxed bohemian atmosphere Silva has created.
The trio's on-screen chemistry is a joy to watch and as you've spent the first two acts getting attached and identifying with them, it's inevitable that you'll be on their side when they cross lines that simply shouldn't be crossed no matter the circumstances. A vicissitude of modern life presents itself, and without giving anything away, the characters' handling of the situation makes us question what kind of people these are that we've been watching and what any given person might be capable of doing in dire straits.
'Nasty Baby'
While both sides to "Nasty Baby" are interesting and well-executed, the drastic change in the third act isn't as fulfilling as one would hope. With its tonal shift, it gains an indefinable quality making it impossible to categorise its genre, feeling like two completely different movies. Technically speaking, the shift is well-made, but it leaves the audience feeling adrift, resulting in an interesting exercise in audience manipulation. Viewers still search for answers that don't quite come in a show-stopping, yet misplaced, roller-skating end credits sequence.
The film is shot in a rough-and-ready hand-held style, catching little glimpses of life the way a photographer might. Appearing drunkenly unsteady at times, though, the intentional sloppy camera work doesn't seem to do the picture any justice.
The world that these characters live in is a warm and simple one, filled with hazy Brooklyn summers and easygoing neighbours, and kudos to Silva for giving us a vivid glimpse into the evolving American family. On the surface the film seems like your ordinary slice-of-life indie comedy, but it presents some pretty alarming questions about morality as it reaches its climax in its unnecessarily polarising third act, that leaves you feeling somewhat disconcerted about the overall story, to say the least.