The new Hal Hartley film brings back everything we know and love about this indie filmmaker and concludes the third chapter of the Henry Fool/Fay Grim saga reuniting all of his favorite actors.
Director: Hal Hartley. 85 mins
My personal Berlinale-mare reached its peak last morning, when I woke up in terror after dreaming that I was in a run-down mall somewhere in the US and I had just missed Ned Rifle's press screening at 8:30. He appeared shortly after, bearded and, for some strange reason, resembling the looks of Ricardo Darin. While I was being comforted by some TV star I can't remember now (and who would later drag me around the mall inside a shopping cart), he approached me and, with an amused smile, reassured me that it wasn't a big deal if I hadn't seen his film. In realty, had I lost the chance to finally watch his work on a big screen (for I never attended any Hartley's screening in a theater), my heart would have been totally broken and my attendance at the Berlinale completely purposeless. On the way to Potsdamer Platz I "performed" what I'd call the "Hartley ritual." I listened to some of Ned Rifle's score compositions (aka Hartley's nickname as a musician) from his early films and Our Lady Of The Highway, probably the first and last music album I have ever purchased on iTunes.
My worship for Hartley began in 2011, when I reviewed an art publication featuring stills from his first movies, The heart is a muscle. The aesthetics of its "human compositions" struck me for the underground-looking coolness, its careless yet proud assemblages of faces, bodies, gazes. Those photographs captured Harley's characters entangled in domestic as well as dramatic gestures, holding cigarettes or guns as though they were painted by a contemporary Egon Schiele who likes to magnify the knots of the muscles instead of the arrangements of the limbs.
© Hal Hartley
When I eventually managed to get a hold of a copy of The Unbelievable Truth, Trust, Surviving Desire and Simple Men I devoured those flicks with feverish enthusiasm, with a weird, almost painful, cinematographic longing. The staged awkwardness of the acting, the pretentious yet somehow intriguing dialogues, the plots full of nonsense and passion: those cinematic strategies came across as amazingly experimental… yet they were not. What I was mostly captivated by was the bizarre love/hate tangles muddled up by the protagonists, mostly despite their will or common sense. And then the ways in which Hartley manifested his taste in terms of style and beauty, halfway sophisticated, halfway subversive; the preference for a certain kind of female charm that made me want to be—or at least look—like most of his actresses. And the awe-inspiring attractiveness of the male characters, with their mysterious madness and their old-school manners, which made my infatuations feel like a high school crush. I entitled Hal Hartley the king of my "cinematic heart." And although I acknowledge some limits in his work, I also reckon his legacy within independent film making.
Ned Rifle was in fact financed through a Kickstarter campaign and credits Mr. Hartley as factotum (producer, writer, director, composer and probably more). Apart from Liam Aiken (Ned Rifle) and Aubrey Plaza (Susan Weber), it casts Hartley's historic team and stars Martin Donovan, Parker Posey, Bob Sage, James Urbaniak and Thomas Jay Ryan (and includes a short apparition of my favorite as well as former Robocop, Robert John Burke). What feels indeed like a cinematographic testament is actually the third episode of a family saga initiated by Henry Fool in 1997 and carried on by Fay Grim in 2007. The story of Ned Rifle starts with Ned—son of life-convicted Fay Grim and disappeared Henry Fool—about to turn eighteen and therefore free to leave the loving and religious foster family which took care of him throughout his teenage years. Now a faithful Christian, he decides to avenge his mother's mistaken incarceration and embarks on a journey to find and kill his father Henry Fool. To put together the missing pieces he meets up with uncle Simon Grim, who's abandoned the acclaimed poetry practice for the sake of an unsuccessful career as a stand up comedian (in this occasion, Hartley—via Audrey Plaza—utters a mega-statement on modern capital and success: "It's necessary to be unpopular"). Waiting to visit the uncle, Ned stumbles upon Susanna, a strange melted-mascara girl who professes to be no less than Simon Grim's number one scholar. While Ned pinpoints the location where his father is confined, we learn that Susan is not only the person in charge of compiling Fay Grim's biography following her accounts, but is also deeply involved in the family's history. As she frustrates Ned's ethical quest for his father with insecurity and misdirection, the two become close albeit pursuing opposite aims.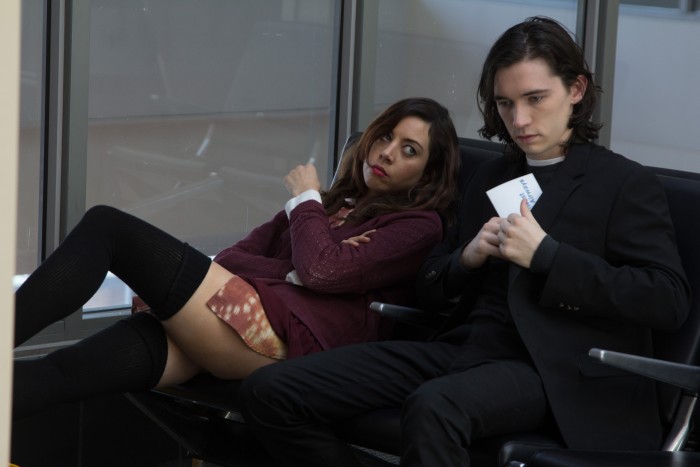 © Hal Hartley
The film unfolds through the usual Hartley's structure: a morally driven protagonist wanders through a world of loquacious and unstable characters. And the more they deliver intense monologues about the state of the arts, the market system or the future of the planet, the more Ned's behavior contrasts our increasing alarm with impassive rectitude. We fear for our hero and his beloved ones. The problem is that who is "beloved" is also "dangerous." By representing the structure of a compelling storyline in such literal way, Hartley unveils the mechanisms of suspense. A director keen on formality, he nevertheless incorporates a quite original idea of love and reminds us that the heart is also a muscle, after all. Hartley's characters are always in tension toward and/or against someone. If their driving force is love (or revenge, which is a side effect of hatred, which is, in some way, just love turned bad), it is more the longing for it than the actualization of the true feeling. Longing, again, seems to be the key through which I read Hartley's work—or at least my love for Hartley's work. His films can be perceived as affected, tackling deep subject matters on the surface but eventually resolving into shallow contents. What I value as a beautifully odd aesthetic regime may be regarded by others as sloppy and poor. My admiration for Hartley's endurance in making low-budget films and his courage in keeping film making uncompromisingly independent could be also read as blind stubbornness and denial of defeat. Yet one must recognize a great integrity in his body of work, and all the more with Ned Rifle, which puts forward an extremely peculiar idea of film and continues a very personal imaginary story.What I feared could be a denatured film, revealing signs of outdated views or style, appears to be proof of inspiring wholeness instead. This is what I long for in cinema.