On Friday 8th May 2015, the Berlin Film Society kicked off its two-day retrospective of Swedish award-winning filmmaker Ruben Östlund at the Hackesche Höfe Kino in Mitte.
Although at first sight it may have appeared somewhat presumptuous to offer a filmmaker with only four films under his belt a retrospective, but a look at his latest feature Force Majeure (2014) – about an upper middle class family slowly falling apart while vacationing at a ski resort in the French Alps (for which Östlund bagged the Grand Jury Prize at Cannes last year) – had most cineastes craving for more.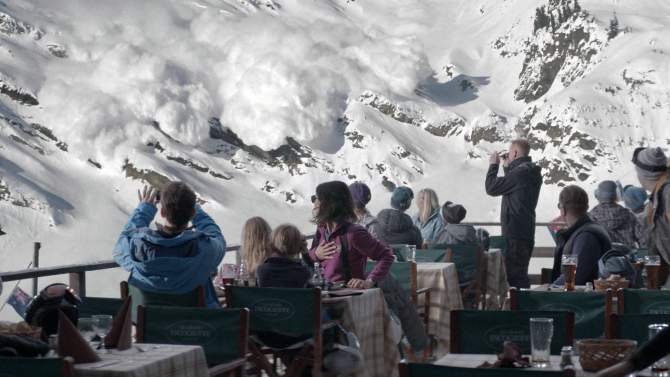 Östlund is concerned with the inherent contradictions that we carry around with us and which are the product of our social environment. He explores these anthropological themes in his films in darkly humorous and disturbing ways, whether by dissecting marital unhappiness or presenting a collage of moments in the lives of his characters as they perform acts ranging from the mundane to the freakishly bizarre – as in his first film The Guitar Mongoloid (2004). The characters of his films are full of quiet despair and subtle humor, always reacting and fighting against the situation rather than actively participating in its creation.
Through his works, Östlund investigates how easy it is to succumb to group pressure and society's expectations of us. Whether it is a husband and father fleeing from his family out of fear and self-preservation during a controlled avalanche or the host of dinner party refusing to get medical treatment after a firework explodes in his eye, his characters are always committing blunders that fracture their delicate egos, thereby exposing the falsity of certain pre-conceived notions we have about gender and class. This type of posturing to character does not, however, allow the audience to be in a position of moral privilege. On the contrary, watching Östlund's films can at times be profoundly uncomfortable precisely because it highlights our own vulnerability as social animals.
This is not to say that Östlund's films are all dread with no laughs. The humor of his films arises out of this dread, they are funny because we recognize how stupid we can be and how we'll do just about anything to save face. For example, in Force Majeure the family man Tomas, after having run away from his family during the above-mentioned controlled avalanche, refuses to admit his own act of cowardice to himself or to his wife, even after being shown video evidence of his own abandonment. This self-denial ultimately ends in one of the most pathetic man crying scenes in cinema, a scene totally devoid of poetry or restraint. It's such wondrously absurd moments as these that act as both mirror and cathartic outlet for the audience.
Ruben Östlund Retrospective Schedule

Date: Friday 8th of May 2015
19:00 The Guitar Mongoloid (2004)
Intermission
21:30 Involuntary (2008)
Date: Saturday 9th of May 2015
19:00 Play (2011)
Intermission
21:30 Force Majeure (2014)
Venue: Hackesche Höfe Kino (Rosenthaler Straße 40/41, 10178 Berlin)
Tickets: €9 per screening // €15 for double-bill (includes an Absolut vodka cocktail in the interval)
RSVP: