Händl Klaus' (whose real name is in fact – Klaus Händl) second feature film about the sudden rupture of the peaceful, quaint life and relationship of a couple unveils the irrational and therefore frightening blind spot that is inherent to human nature. The film is looking to find the return passage to a paradise lost or at least for a way to rationalise the irrational, trying to learn how to live with a truth that cannot be put into words. This has been honoured by the Berlinale Teddy Award for best feature film 2016, a prize celebrating Queer cinema.
We learn about the carefree, almost paradisiacal life of Stefan (Lukas Turtur) and Andreas (Philipp Hochmair) that is comprised of their beautiful house in the vineyards on the outskirts of Vienna, their garden which offers them a wide array of food and many opportunities to celebrate or work meditatively, their jobs as a musician and a manager respectively at the Vienna Radio Symphony Orchestra and their circle of friends that seems to consist exclusively of musicians. But taking pride of place in both their lives is Moses, their much beloved cat.
In the first 30 minutes of the movie, Moses takes up nearly half of the screening time. He is an equal protagonist in the film which seems to mainly consist of snapshots. Each of these snapshots appears to be a 'cat moment,' full of idleness, slowing down and purring contently. It resembles the life of the two human beings in this cat-human-relationship. Just like the cat they too are moving at a relaxed and somewhat aimless pace through life, and they, just like Moses,  are naked for most of the time (as Händl Klaus told the audience at the Berlinale screening, smirking).
Without any sort of warning raw, animalistic, unfiltered violence bursts into this paradise and is gone again within the blink of an eye. While it is bitterly regretted, it is the turning point of the story and with it, we cross the boundary line that was previously demarcating their paradise. An interpretation which is not as far-fetched as it may seem given that Tomcat is full of metaphors, pictures and allegories.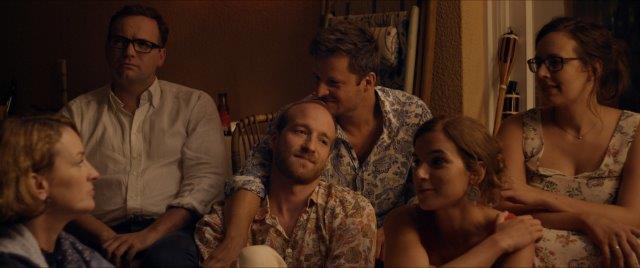 What then ensues is a realistic observation of emotions and the dynamics of a relationship that has been shaken to its core. However, the cause remains intangible. The search for the 'why' and for a way to speak about the change in their lives, for a way to make sense of the illogical is told within quiet,  expertly arranged scenes. One of the strongest moments of the film shows Stefan in his weakest and most sensitive moments enduring a psychological breakdown during a soccer game with his friends. He cries and he weeps surrounded by his silently empathetic loved ones. This scene is enveloped by a very poignant portrayal of two people in love. Hochmair and Turtur are two outstanding actors and master the tasks at hand with extreme dexterity. At first Händl Klaus was working with a heterosexual couple. The decision to make the couple be of the same sex took place during the casting process and it proved to be a masterstroke for the film.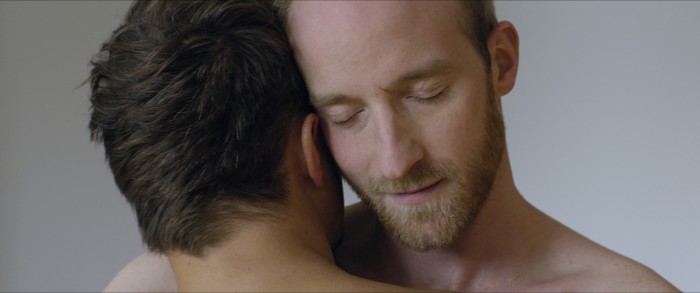 Though music takes a leading role in the life of the two men, there is no score in this film. That is why natural sounds are much more salient. If there is music it is part of the picture and the scene, being observed like the protagonists emotions – during a concert, in the mirroring image of one of Stefan's pupils or, while dancing naked to Miles Davis.
Händl Klaus who also works as an actor (alongside the likes of Michael Haneke), as a librettist and an author has created a psychological and intimate film. It is psychological not by means of being didactic or dogmatic but by silently observing the inner works of a relationship between two people. He is looking for something much deeper and tries to capture irrationality and what cannot be controlled in order to include it into a system, making it tangible and manageable. At the same time the film examines guilt, the repetition of the fall of man within a relationship. It is a very quiet movie, which never stops observing its subjects. The pace is unexpectedly slow; one has to insert oneself carefully into the slow movement of this beautifully crafted study.