Praises be to the Sapphic queen, lesbians are finally in vogue. Ever since Blue is the Warmest Colour turned women-loving-women into an ostentatious, borderline sickly art-form in 2013, Cannes has become a tribadistic temple for (mostly male) directors to sacrifice their queer filmic offerings in the hopes of receiving divine enlightenment – otherwise known as the Palme d'or.

While Cannes' 2014 Un Certain Regard selection saw July Jung's A Girl at My Door receive a rather exhausting three-minute standing ovation, 2015 gifted us with Todd Hayne's Carol, a lesbian glove lunch melodrama starring the indomitable Cate Blanchett, which surmounted Jung by receiving an indulgently excessive ten-minute ovation, but hey, who's timing these things? This year however we've been presented with one of the best pieces of queer cinema – and indeed one of the best pieces of cinema this side of Brokeback Mountain. Park Chan-wook's The Handmaiden is not only an exquisite piece of storytelling, it's also a miraculous revelation: the blinding of the male gaze while depicting a uniquely female experience is apparently entirely achievable, and perhaps even more surprising, obscenely sexy.

Since winning the Cannes Grand Prix in 2003 with his brazen epic Oldboy, Park Chan-wook has established himself as one of South Korea's most prominent filmmakers. His delightfully playful style which blends the utterly grotesque with the sinisterly jocular has permeated deep into the curiously pounding heart of all of his movies, from Joint Security Area, Thirst and Sympathy for Mr. Vengeance to Stoker, his English language debut which premiered at Sundance in 2013. However, where the latter may have proven to be somewhat of a comedown after the intoxicating highs of his previous work, The Handmaiden more than demonstrates his mastery of the craft, in fact becoming his most stunning jewel in an already dazzling crown.

Based on Welsh author Sarah Water's novel Fingersmith, Park has deftly swapped the original Victorian London setting for 1930s Korea under Japanese occupation. Consequently the film is predominantly set in a mansion which is a hypnotic Korean-English-Japanese architectural hybrid; a structural allegory for the plot which constructs itself upon a (bizarre love) triangle of deception, told in three distinct chapters.
The basic premise of the movie is thus: a spirited young maid called Sook-Hee (Kim Tae-ri) is employed by the naive, rather aloof Lady Hideko (Min-Hee Kim) who is being held captive within her own manor by her sadistic Uncle (Jim-woong Jo) who makes his living by forcing her to perform readings of his antique erotica collection to well-off aristocrats. He intends to marry Hideko and therefore gain access to her considerable inheritance, but so does a cunning con artist (Jung-woo Ha) who has refashioned himself as 'Count Fujiwara'. Early on however, it transpires that the 'Count' is actually in cahoots with Sook-Hee and has helped her gain employment with Lady Hideko under the ruse that she will convince her to marry him before he takes her money and throws Hideko into the madhouse, giving Sook-Hee a cut of the inheritance.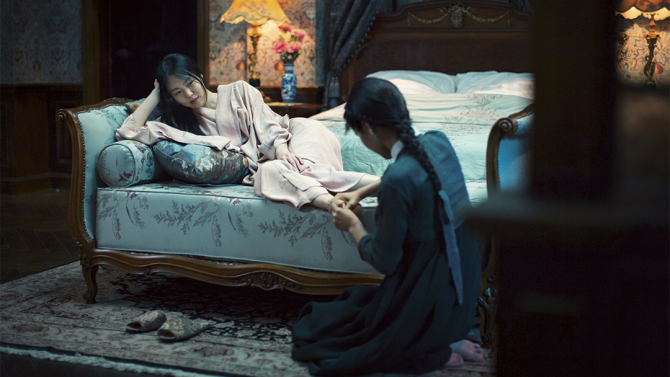 But, of course, this is only the quivering tip of the iceberg. The Handmaiden flows less like a calming river of predictability and more like a box of erratically uncoiling springs, be they mattress or otherwise. Sex, in all of its wild unpredictability, finds itself the omnipresent supporting star of the movie, exposing the flaws, fantasies and hidden depths of all four of its leading characters. Crucially however, while the women use sex to reach a zenith of uninhibited liberation, the men are held captive by their lust, just like Uncle Kouzuki's claustrophobic octopus, condemned to grope erratically at thin air from the confines of its uncomfortably cramped tank.

Yet, this view has not been entirely shared by many of Park's critics. While unanimously celebrated for its refined attention to detail, Chung Chung-hoon's captivating cinematography and its formidable narrative pacing, The Handmaiden's sex scenes have been criticised for gratuitously detracting from the story and diving into a clichéd litany of unrealistic lesbian tropes indicative of the male gaze. But this is to miss the point of the film entirely.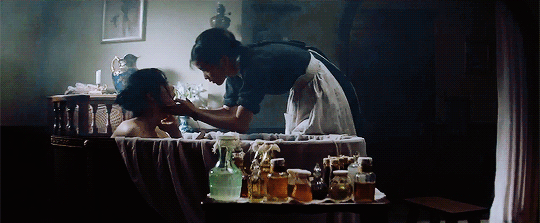 The key to appreciating the significance of The Handmaiden's sex scenes lies in the juxtaposition of Uncle Kouzuki's erotic readings on the one hand and the physical eroticism of Hideko and Sook-Hee on the other. Where the former encourages a frustrated, isolated arousal amongst the male aristocratic audience, the latter surpasses the spoken word by transforming it into a passionate, lived reality. This reality is one that the aristocrats may only glimpse at through their agitated imaginations, and with the aid of a mechanised wooden doll, which Hideko dutifully mounts on cue when lowered from the ceiling.
Providing us with one of the more obscure moments of mock-eroticism in cinematic history, the image of Hideko suspended mid-air and fastened by the waist to the male wooden doll is, when compared to the tangible intimacy of Hideko and Sook-Hoo, about as arousing as Uncle Kouzuki's ink stained tongue. Nevertheless, this is the closest the male aristocrats can get to the dizzying sexual enlightenment achieved by the two women. Their fantasies, which are reliant on a system of ropes, pulleys, levers and words, are only ever able to reach an artificial fulfillment; the blinkered male gaze ultimately becoming a means of restricted misdirection and a catalyst for a series of impossibly indulgent delusions.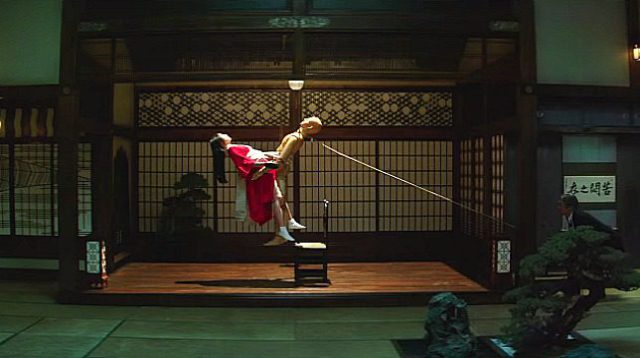 Having depicted his male characters as being the oblivious hostages of their own fixations, Park spends a considerable amount of time embellishing the liberated inner world of Hideko and Sook-Hee. Weaving their sex scenes throughout all three chapters of the film, Park crucially reveals layers of characterisation that would otherwise have remained disappointingly overlooked. Power and the innate shifting of it naturally feeds into each of these scenes. As the film progresses we soon realise that the power-play between Hideko and Sook-Hee is symbolic of the shifting perspectives the narrative structure permits us to observe.

By being shown the same sex scene twice, at first from the perspective of Sook-Hee, and later from the perspective of Lady Hideko, we see that both angles favour their prospective eyewitness as being the true carnal commander. This proves to be a masterstroke by Park who sets up their third and final scene to reflect the merging of their individual worlds in the absence of any ulterior scheming, which was initially being driven by the flawed male mind of 'The Count.' The balanced symmetry of this closing scene reflects the consequential equal distribution of power between them, and their complete emancipation from the men who so keenly wanted to confine them.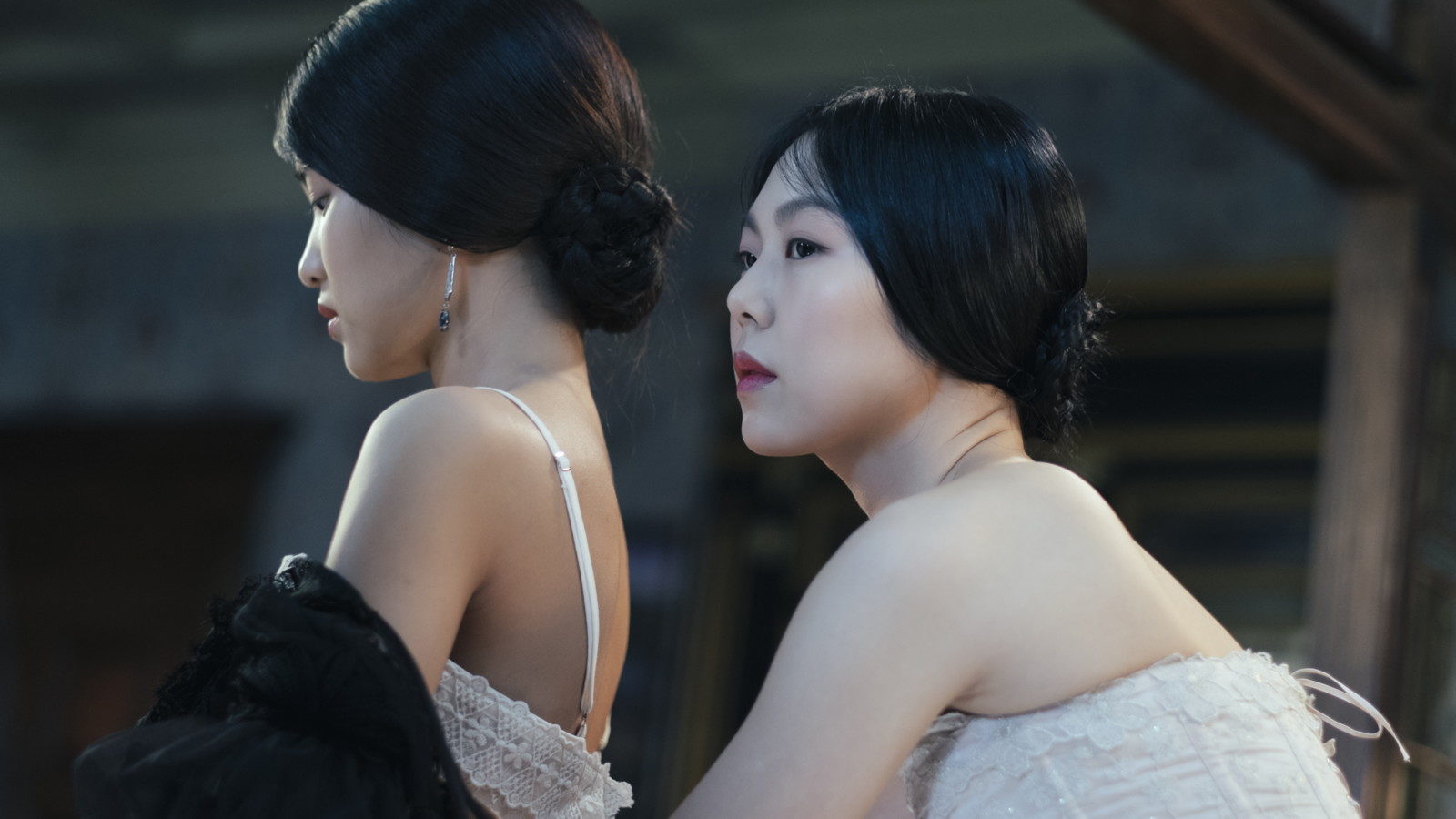 The Handmaiden is not only a visual, narrative triumph, it is also a testimony to the director as auteur overcoming predetermined biases to produce something truly empathetic to an experience that they will never personally be able to attain. Let the prudish critics say what they will, Park Chan-wook has set an unlikely but entirely welcome precedent within queer, feminist cinema and it's doubtful we'll see another film of its kind for quite some time.

Well, at least until next years Cannes.