It all comes together in Los Angeles: a city impossible to imagine without remembering scenes and images from films, a city simultaneously manufactured and obscured by its images, a collage of fragments from the silver screen. An elusive city with an essence hard to define, because its 'self' is constantly being put through the ringer of the production machine, always being framed, cut-up and edited into a composite city that does not really exist. And so it is also no surprise that filmmakers have turned their cameras on the city itself, trying to pin down something true and real about it, to actually use it as a place lived in, rather than just as another location. To celebrate the heading to Los Angeles this Saturday for their first , we have compiled a short list of some of our favorite films about the city that we think come close to achieving that.
Los Angeles Plays Itself (2003/2013)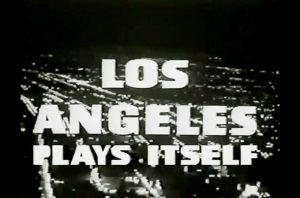 Thom Andersen's three-hour video essay investigates the way Los Angeles has been portrayed in movies across cinema history. Compiled almost exclusively out of movie clips, it is a brilliant work of filmic archeology, a scathing polemic against Hollywood's hijacking of the city's identity, the way the city's geography, architectural landmarks and sites have been misused and misrepresented by Hollywood, thus offering a falsified image of the city that obscures the real place. Part film criticism, personal essay, and political statement, Andersen's film offers us a dismantling of the dream machine by critiquing the ways in which movies both reflected on, colluded with, and perpetuated Los Angeles' troubled civic history, one characterized by institutional racism, political corruption, and social inequality.
The Exiles (1961)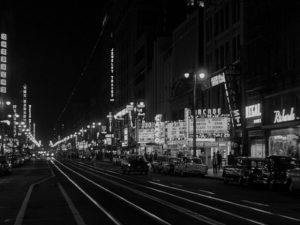 Kent Mackenzie's nearly forgotten masterpiece is one of the first to portray the lives of young Native Americans in an urban environment, in this case the neighborhood of Bunker Hill in downtown Los Angeles, to show their social and economic isolation and struggles, the directionless road their lives are destined to take. Once an affluent neighborhood, Bunker Hill after the Depression soon became synonymous with working class poverty, but was deeply imbued with a community spirit and multiracial tolerance. Yet it was soon after The Exiles was shot that city planners decided to level Bunker Hill and turn it into a high-rise district for corporate office buildings and other structures of commerce, thus pushing out its inhabitants further out to the periphery of town. And so we can see The Exiles also functioning as a documentary artifact of a city and a neighborhood on verge of disappearing: a filmic archive of a place doomed to give up the ghost.
Killer of Sheep (1978)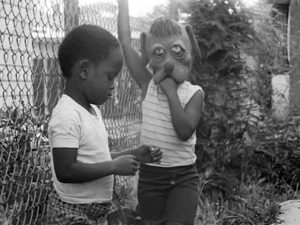 Charles Burnett's debut feature Killer of Sheep is a milestone in American independent cinema. The titular killer is Stan – a working-class family man living in an African American neighborhood called Watts (site of the Watts Rebellion in 1965), where he also works long exhaustive hours at the slaughterhouse. Stan is surrounded by a cohort of friends and family, all of whom live in a permanent state of economic depression and social exclusion. Structured loosely around a series of vignettes showing us scenes of the everyday intimately tethered to the real lives of the non-actors, the film's documentary ethnographic quality is firmly grounded in the tradition of Italian neorealism, with Burnett offering a demystified portrait of black working-class life, rid of romantic clichés and character types. Another poetic document of a neighborhood largely unseen in cinema.
In A Lonely Place (1950)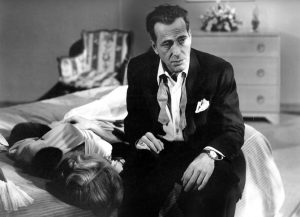 Nicholas Ray's love/hate relationship with Los Angeles and Hollywood is on full display in this tender, yet boundlessly bleak thriller romance, and is certainly one of the best films about the film industry. It tells the story of Dixie Steele – a world weary, caustic screenwriter past his prime, played with cool resigned cynicism by Humphrey Bogart, who falls under suspicion of murder. A neighbor Laurel Gray, played here with equally desperate charm by Graham Steele provides him with an alibi, and soon the two embark on a doomed to fail romance full of misplaced love, suspicion and self-loathing all taking place against the backdrop of a hopelessly dark Los Angeles.
Chinatown (1974)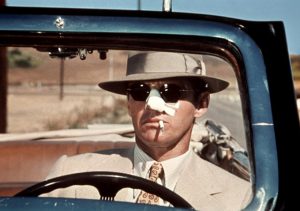 Roman Polanski's iconic crime film locates Los Angeles as the center of personal greed, moral decay, and civic corruption with the city embroiled in a massive water and land takeover by an obscure elite. On the trail of the perpetrators is private eye Jake Gittes, played by a very debonair looking Jack Nicholson, who soon becomes entangled in a web of conspiracy and murder. It is a stellar example of neo-noir that is as much a homage and as an indictment of 1930s Los Angeles as a den of crime, turpitude and illicit desire. Thom Anderson has noted how the film offers a secret history of Los Angeles, one that exists beyond the scope of collective and public memory. Indeed, the film offers a cynical critique of the way city power functions and is performed: backroom deals and handshakes, the city as real estate property carved up by nameless officials – a line of thinking that offers troubling links to the contemporary.