"When a girl first starts skate boarding, something magical happens, says Nina Moran, "a skateboard is like their flying broom, when you get on a board, you literally feel like you can fly and go wherever you want."
It was on the G4 Train in Brooklyn that director and writer Crystal Moselle, WolfPack (2015) overheard Nina Moran talking to her friend about skateboarding. The outcome of this chance encounter is a film called Skate Kitchen (2018) which follows a girl group of teenage skateboarders shredding the skater bro stereotype and flying through the streets of New York.
Instead of trying to exclusively create or record, Moselle's Skate Kitchen attempts a synthesis of both with a credible form that matches the spectator's expectations throughout the film. We follow a spectacled, introverted teenage skater, Camille (newcomer Rachelle Vinberg) who sneaks out of suburban Long Island, to meet an all-girl, New York City-based skateboarding crew called Skate Kitchen. One day they advertise a meet-up through social media at a skate park and Camille goes into the city, where she befriends Janay (Dede Lovelace), Indigo (Ajani Russell), Kurt (Nina Moran), Ruby (Kabrina Adams), Eliza (Jules Lorenzo) and Quinn (Brenn Lorenzo). She is accepted by the crew, clashes with her Colombian mother, (Orange Is The New Black's Elizabeth Rodriguez) and falls for the alluring sk8er boi, fresh from never-never land, with dyed red hair (Jaden Smith). Moselle focuses the form of the film on challenging gender norms and traditionally male dominated spaces which makes Skate Kitchen emblematic of political progression rather than just another dull girl-meets-boy trope.
Skate Kitchen feels reminiscent of Larry Clark's 1995 KIDS, yet with a less amoral centre. Funded and produced by Harvey Weinstein, Clark's film offered the world a disturbing adolescent peep hole with which to consume rape, nihilism and teenage cruelty. Moselle's camera, in stark opposition, poses a candid, honest view of youth culture. Moselle resists fetishizing skaters with perceived masculine alienation by offering an exploration into the nexus of identity and acceptance from a female perspective. The youth in KIDS have no moral compass, they are misogynists and fixated on bedding virgins. KIDS was a microcosm for the violent disorder that characterised 1995 and the end of the Clinton era. Cut to modern day, and the 'kids' in Skate Kitchen punctuate our psyche's with queer existentialist identity politics rather than the barren wasteland of meaningless sex.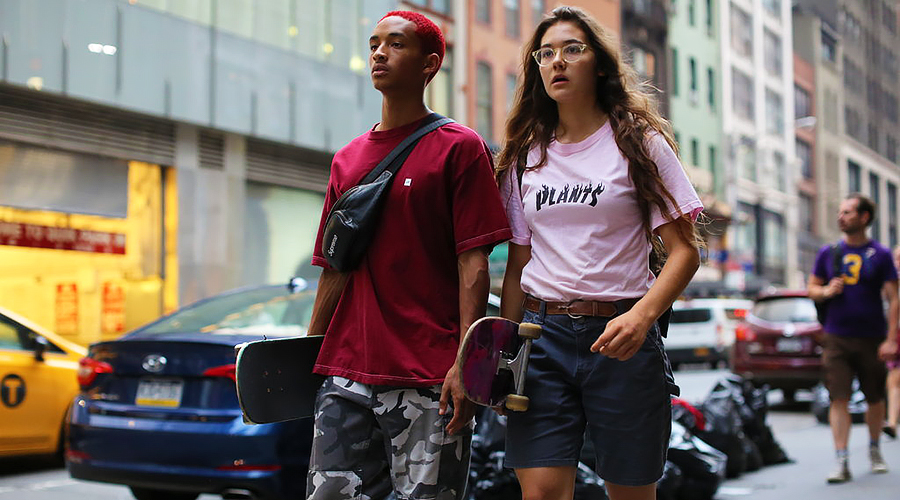 When we are young, we are constructing our identities and ourselves through our daily interactions and experiences. Moselle gracefully reflects on the human need for others in order to gauge our own existence and create a coherent self-image. As Camille explains, "For a while I was feeling really lonely, "That loneliness you have even in a crowded room, but I don't have it anymore." Just like the mysteries surrounding skate boarding itself, the crew in Skate Kitchen grapple with the anonymities of identity, uniqueness and where they belong in a post-internet era.
The ultimate slam scene takes place within the first three minutes of the film, as Camille is credit-carded by her skateboard. In skateboarding, this term is applied when the board lands at ninety degrees between your legs and you land directly on top of it. This act shores up Camille's physical strength and resolve. These bodily skate risks are traditionally reserved for tough boys, here we are not shown Camille, Carrie (1976) Stephen King style, dripping in blood from her vengeful waist downwards, instead we are shown a girl who moves on, no drama, no prom-night, no period, no hysterics. Camille can endure pain on and off the skate park. There is no mantle of victimhood for Camille and her crew, they emerge as strong young women.
Moselle straddles the line between documentary and narrative film by successfully negating the conflict between reality and illusion through a combination of seamless montage and immersion. Combining hypnotic, dreamy skating sequences of the crew grinding Manhattan with unfiltered, candid speech around menstruation, tampons, gas-lighting and sex. The camera breathlessly swoops, plunges and dives beneath, in and around the action. Split second intercuts of ollies, kick flips, nose grinds and backstabs illuminate the screen whilst this previously unseen girl crew carves up public spaces. This cinematic medley is what VF Perkins describes as "pattern in motion" in his seminal text, Film as Film. It is these impressive patterns of light and play which elevate this into an artistic film.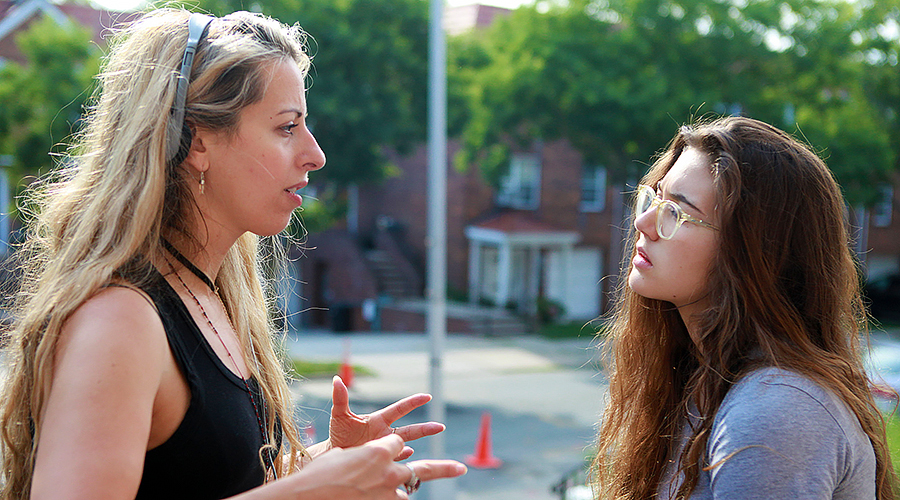 The camera's realism takes reference from things that already exist, and evokes a sense of individual skater style, which loosely refers to the character's actual identity and non-conformist attitudes toward the world at large. These styles take on a variety of forms, expressive, assertive, laid back, graceful or polished and serve to individualise and distinguish the different personalities. "No Bro, I'm a poser" Nina Moran drawls sarcastically when someone spots her board and asks if she can do an ollie. "That's why I have this shit. I thought this was just an accessory. It's my purse." Moran plays the lesbian, Kurt (Nina Moran) who brings a high-spirited character and strength to this new variety of femininity. When one of the skaters admits to being timid about an upcoming gynaecological examination, buoyant Kurt takes a speedy peek and declares her friend's genitals "valid."
Moselle lures us in on a heady tonic of rhythm and blues blending beats from Ambar Lucid, Aska Matsumiya, Jaden Smith, Clairo, Khalid, and Princess Nokia all telling is to 'pop, lock and drop it' in the search for self. We are invited to witness the new genesis of what it means to behave like a female, move like a female, dress like a female. Moselle rewrites the standard definition of feminine by authorizing these girls with a legitimate visibility. Understanding how the politics of gender influences this construction of identity, is central to the film. Women are no longer at the risk of disappearing into non-existence.
Skate Kitchen re-examines skateboarding culture through a female lens, to expose it's mixed parentage of grace and irreverence. The film challenges traditional masculine codes of physical prowess, competition and achievement. Skate Kitchen shares its name with the real life female crew that inspired it. Actress Rachelle Vinberg and Nina Moran curated the group after meeting on Youtube. Vinberg came up with the name Skate Kitchen after she read comments under a skate video demanding that she should go to the kitchen and make sandwiches. What was previously a territory reserved for boys, is now attracting a generation of girls who seek the same escape, outlet and play that skateboarding historically reserved for boys. On the streets of New York, both male and female skateboarders are rallying against the systemic sexism that taught women that their place was in the kitchen. The message from Camille foams and fizzles from the screen, 'Come as you are' and claim your slice of freedom. This film reminds us that a woman's place is not in the kitchen, a woman's place is wherever she is flying.