Founded in 2017, Final Girls Berlin Film Festival celebrates and showcases films directed, written, or produced by womxn. Each event is a safe haven for horror enthusiasts of all backgrounds to come together and share their love for fierce heroines reclaiming their power with blood and guts. Over the span of 2 years, the festival has toured around almost every shabby-chic kino in Berlin, and come this Autumn, international audiences will have the opportunity to catch their special Halloween and Best Of Final Girls Berlin 2019 screenings in Oslo, London, and Glasgow. We caught up with its founders, Elinor Lewy and Sara Neidorf, to learn more about what it takes to build your own film festival from the ground up.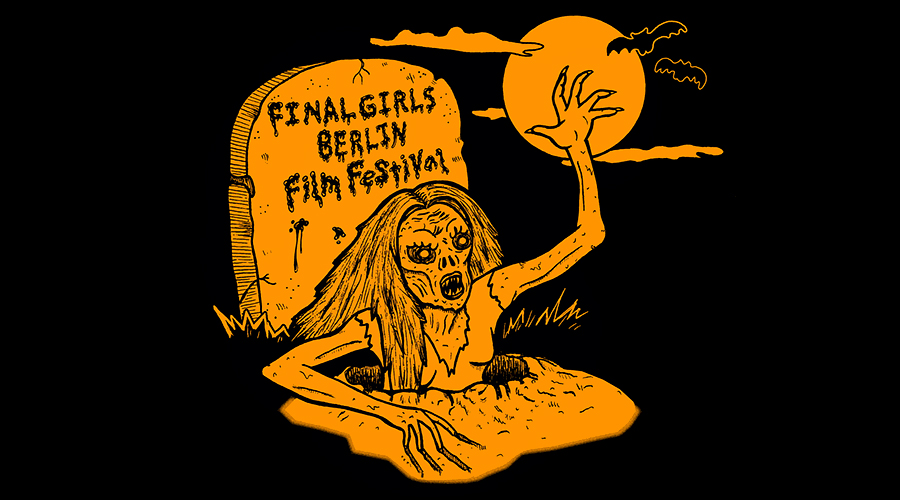 What inspired you to programme a film festival around female-led horror?
Sara Neidorf: When I first met Eli, our entire friendship revolved around movies, and we quickly realised that we shared a love of horror, especially horror featuring monstrous and unconventional female leads. At the same time, we also shared a passion for feminist cinema and an interest in digging up lesser known films made by women. The decision to put these two passions together just made sense. Furthermore, we had been aware of and inspired by other niche festivals dedicated to horror by women in Tokyo and Los Angeles, noticed that no such festival existed in Germany, and were interested in bringing this work to Berlin's film culture.
Would you say there is an untapped market in Berlin for screening these kinds of films?
Elinor Lewy: Though Berlin has horror events and a lot of feminist cinephiles, there's definitely potential for them to intersect more. There are many people who say they don't like horror, but when you start talking to them they reveal that they love quite a lot of thrillers and horror films – they just don't categorise it as horror in their mind because they like it! There's a certain stigma around horror. So I would say our untapped market is that section of people. We'd like to show them that horror isn't this low-brow, uninteresting genre and that there's plenty of films that we screen at our festival that they could enjoy.
Talk us through the process of determining which films best represent your ethos – what qualities do you look for when considering a short or feature length film?
SN: It's important to us that the films we screen do not reproduce the power structures, tropes, and constellations typical of mainstream horror. We appreciate films which invert, comment on, or make apparent the sickness and staleness within these structures. We also appreciate films that show us embodiments of the sinister that we've never seen before. We feel that horror is a very elastic term, and we're excited to discover films that make us question and expand our conceptions of what horror can be, both in ways that are distant from and uncannily near to our own realities. We also aim to prioritise films that are interested in representing the underrepresented and giving unique voices and roles to marginalised groups, and which lend complexity to the victim/villain dichotomy. There's no space for a hegemonic, heterosexist male gaze in the films we programme.
Did you find that getting a brand new independent film festival up and running to be a difficult experience? Were there any major obstacles you encountered along the way?
EL: The main hurdle in getting a big project up and running is often an internal one, being overwhelmed by taking on a big project and not believing you can pull something off from scratch. My co-director Sara Neidorf and I were so enthusiastic about launching a women in horror festival that we thankfully didn't let that stop us! I wouldn't say there were any major obstacles but there were definitely some stressful moments, you just learn as you go and get more savvy with time.
What tools and resources do you find useful for programming?
EL: There are submission platforms like filmfreeway, film distributors we have connected with that let us know about their new films, and also plain old research. We also look at other festival programmes and connect with fellow festival programmers to get the best inside scoop; this kind of information has gotten increasingly more accessible to us with time.
Have you encountered criticism in reaction to the films you screen? If so, what feedback in particular did you find surprising?
SN: Needless to say, it's impossible to please everyone. We've been reminded now on several occasions, that even though we are a horror festival, it is utterly essential that we use content warnings in our written programme texts AND spoken in introductions before each program. We do want to be accountable to our audiences and create a space in which dialogue can occur, but also in which viewers, many of whom are female and non-binary, feel that their needs and experiences with trauma are taken seriously. One example of a criticism I found surprising, but also understood, was regarding a film in which the villain was a wife and mother who was keeping her husband imprisoned and bedridden in order to collect insurance money, and also forcing her ten-year-old daughter to be complicit in this abuse of her own father. It is fair enough to say that, yes, the film portrays a form of child abuse. One viewer at a screening in Dresden stormed out of the room in the middle of the film, and later said to me that she was shocked that I would call such a film "feminist horror." I did think about that later– that perhaps I should have just labeled the films "horror films made by women" rather than "feminist", but I still struggle with how much we tend to limit our ideas of what feminism can be, and how it is as well an act of feminism to create a platform for a South Korean female director of horror, and it is also feminist to show a woman, in the role of wife and mother, in a position of power and violence, taking pleasure in her sadism. It's not beautiful, and it's not behavior we are being told to aspire to, but it is a transgressive representation, and we find that fruitful, powerful, and necessary.
Are there subgenres of horror that you would like to explore through FGBFF?
EL: We have such an eclectic, diverse programme that I don't think there's a specific subgenre that isn't represented, but there's still a lot left to explore when it comes to representing the female experience in horror.
SN: Exactly. I could list specific subgenres or themes that excite me most – like satanic cults, witchcraft, demonic possession, body horror, lesbian vampires, etc. – but I think the subgenres we're most interested in are the ones we haven't heard of yet. We want to see more and more work that shows us something completely new, breaks boundaries, decimates expectations.
Which film-makers working today are worth watching out for?
EL: I'm really excited about New York-based filmmaker Laura Moss who has shown a few of her shorts at our fest and is currently working on her first feature-length film, for example. I'm also interested in seeing what's next for directors like Karyn Kusama (XX, The Invitation) and Jennifer Kent (The Babadook, which we are screening this Halloween!). One film I'm really looking forward to is the "spiritual sequel" to Candyman directed by Nia DaCosta which is coming out in 2020.
SN: Aside from the amazing filmmakers Eli mentioned, I'll add Lynne Ramsay, who made We Need To Talk About Kevin and Morvern Callar, among an entire oeuvre of incredible films, and Alice Lowe, who wrote, directed, and starred in Prevenge when she was 8 months pregnant. Another great filmmaker worth checking out is Jennifer Reeder, who recently made an almost surrealist horror-esque film Knives And Skin, and a whole bunch of genre-defying shorts, many of which feature adolescent female protagonists and very daring portrayals of fear and desire.
It's great to see FGBFF is branching out to cities around the globe! Are there any cinemas, festivals, or individuals working in the film network that are still on your collaborative bucket list?
EL: Seeing our films resonate with international crowds is great. We have screened in quite a few countries in Europe and the US and next up is Chile! We would love to collaborate with top tier horror festivals like Fantasia in Montreal and Fantastic Fest in Austin, Texas. One of my favorite things about the festival is getting to meet horror specialists and filmmakers from around the globe and our network just keeps getting bigger, which is lovely. One person that I would love to have at our fest is film critic and writer Alexandra Heller-Nicholas who is just about to release a book titled "1000 Women in Horror" that spans from 1898 – 2018.
It seems to me that a lot of young cinephiles are developing a keen interest in venturing into the world of film programming – do you have any words of wisdom you would like to impart?
SN: I guess I'd just say, trust your taste! Put a unique perspective out there; don't just make the safe choices. Look for the things that really speak to you and rile you up inside. Bring something new and boundary-pushing to audiences, not just things that will placate them. And mostly, have fun with it. There's rarely any, or much money in this work; we do it because we freaking love these movies. It may occasionally be draining and daunting, but at the end of the day, it's deeply satisfying to create a platform for sharing, appreciating, and discussing the art we're excited about.
You can follow Final Girls Berlin Film Festival on  and , and to their upcoming Halloween screenings in Berlin, Oslo, and London, on October 31st – as well as their Best Of Final Girls Berlin 2019 programme in Glasgow, on November 14th.