Anyone that's spent time in Berlin knows them: young African men roaming the big parks in Kreuzberg and Neukölln, jobless, often undocumented, forced to deal drugs, partly bothersome, partly helpful, depending on what you look for. It is only now that these men been rightfully immortalized on celluloid, in Burhan Qurbani's take on the 1920s classic by Alfred Döblin. And what a glorious take it is. Evoking the decadent and destructive charm of Germany's prime sin city, Qurbani pulls us deep into its undertow over the course of gargantuan three hours that feel meticulously timed, gorgeously shot, urgent and timely.
The setting of Alexanderplatz makes space for Hasenheide park and Franz Biberkopf is reborn in Francis B. (played by the very slick Welket Bungué), a young refugee from Guinea-Bissau, who washes up on the shores of Europe. A tainted man, a thief and a pimp in his past life, Francis decides to take a vow: "From now on, I will be good". One already senses the fallacy of such claims in an inherently evil world and a debauched city that always finds a way to foil your plans.
Francis' story begins in an immigration camp where he and other Africans toil away at a construction site, until mid-level gangster Reinhold (Albrecht Schuch) shows up looking for men who want a chance for a life with more in it than a bed and a buttered bread (read: street dealers). Francis refuses to be drafted but after he is thrown from the construction site due to a friend's betrayal, he has no choice but to turn to Reinhold. Francis moves in and soon finds himself taking care for Reinhold's girls and cooking lunch for the dealers. His fearlessness and astuteness help him rise through the ranks in a criminal life, one he is oddly well-cut out for. He meets the crime boss Pums (Joachim Król), a charismatic night club owner Eva (Annabelle Mandeng) and finds a love interest in sex worker Mieze (Jella Haase). And then complications arise, as they are naturally wont to and Francis gets three strikes before life will break him.
Berlin Alexanderplatz looks and sounds marvellous. Its Berlin is slick and stylish, deep magentas and reds drenching the interiors, atmospherically deep summer night skies overhanging urban cityscapes and bridges. Sometimes other images interrupt the narrative, a curiously still black bull that looms over Francis (or is it the other way around?) The high production values sometimes betray the grimy plot and make us look twice, to ensure we are not watching a music video. An adaptation at heart, Berlin Alexanderplatz is divided into five parts and an epilogue, with recurring musical motifs and a sublimely poetical voice-over by Jella Haase that does wonders to raise the tension and foreshadow events. All audiovisual elements work in symphony and evoke the image of a postmodern, post-sympathetic moloch that swallows anyone who dares to enter it.
Qurbani's character-driven approach is invested in Francis' relationships to the Mephistophelian Reinhold and Mieze, aiming to feel out the implications of this fatal ménage-a-trois. While Jella Haase does not get the screen time she rightfully deserves (but makes the most out of the scenes she is in), the movie is electrified by Bungué and Schuch. The former radiates calmness and assured masculinity, his noble features betraying deep intelligence and understanding. Bungué carries the film with ease on his shoulders, grounding the audience in every scene he is in. Yet the true spoils belong to Albrecht Schuch, whose screentime may qualify him in the run for a Silver Bear. His interpretation of the toxic Reinhold alternates between calm and calculating Shakespearean Iago, a menacing Joe Pesci character, at times tipping into a Joker madness. We cannot look at him and we cannot look away.
Qurbani addresses many themes over the course of 180 minutes. It's a testament to his powers as screenwriter and director that he manages to conceal his weaknesses rather efficiently. Take for instance the theme of (hyper-) masculinity. Francis' recurring erection problems are never properly explained or situated with the narrative, Reinhold's hypersexuality (a trait Qurbani lifted from the novel) is never properly explored. One scene vaguely hints towards a homosexual component, which would add another interesting layer to the friendship/enmity of the two men.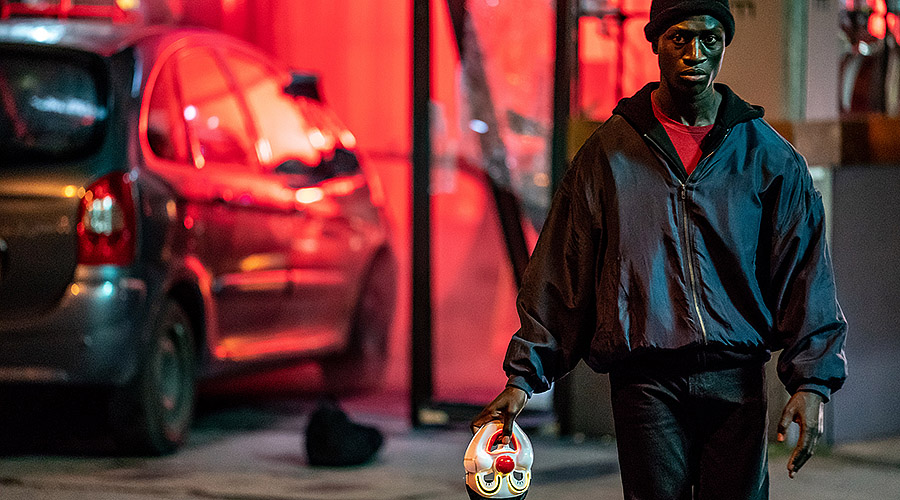 Then again, the movie contradicts itself when it speaks about the status of an immigrant in Germany. Francis gets rechristened as Franz and goes back to the same immigration home to proclaim "Ich bin Deutschland", yet he is not the German dream as he wrongfully believes. He is Reinhold's tool, his "gorilla" (in Pums' terms) and when Qurbani stages a party with Reinhold dressed up as a white colonialist, he is swinging the literal hammer way too heavily. Franz is indeed one of hundreds and thousands of backs upon which (white) Germany's accomplishments rest, a fact the movie voices at one point in a telling conversation. It's disappointing that Qurbani – especially given his own background as an Afghan-German – doesn't make more elaborate statements.
Berlin Alexanderplatz works best as a fable about taking responsibility of your own live and shaping your own narrative. Francis shows us the dangers of passivity and abandon. You can only own your identity once you have gone through everything life threw at you and come out on the other side. Not everyone manages to endure this sort of baptism. Francis-Franz stands alone.