The best movie of this year's competition is not as showy as Siberia, not as experimental as DAU.Natasha, not as mythical as Undine. It's a quiet and simple teenage drama by the name of Never Rarely Sometimes Always. Eliza Hittman's tells her timely coming-of-age story about abortion with deep sympathy and great observational skill. She is aided by two strong newcomers, Sidney Flanigan and Talia Ryder in a work that demonstrates how friendship and self-determination are often two sides of the same coin.
Autumn, a 17-year-old from rural Pennsylvania, has not been feeling well for quite some time. Not that anyone around her cares about it terribly, from her pacifying and distantly loving mother (Sharon Van Etten) to her cynically hostile step-father (Ryan Eggold) who believes it a mental issue, to the supermarket manager making Autumn work despite her being unwell. An exception comes in form of Autumn's cousin Skylar (Talia Ryder), who doesn't need words to sense that something is up.
A trip to the woman's clinic hardens the assumption: Autumn is ten weeks along. In the climate of small-town bigotry and blatant sexism such things go one way – and when the examining nurse pretends to understand Autumn's point of view, only to play her a sensationalist clip about the dangers of abortion, the message is unmistakable. Autumn has no intentions to mire in unwanted motherhood and the state of Pennsylvania requires her parents to consent in the case of abortion, she hatches a plan. Without a word, Skylar pockets some 10$ notes at work and the girls are on their way to New York City.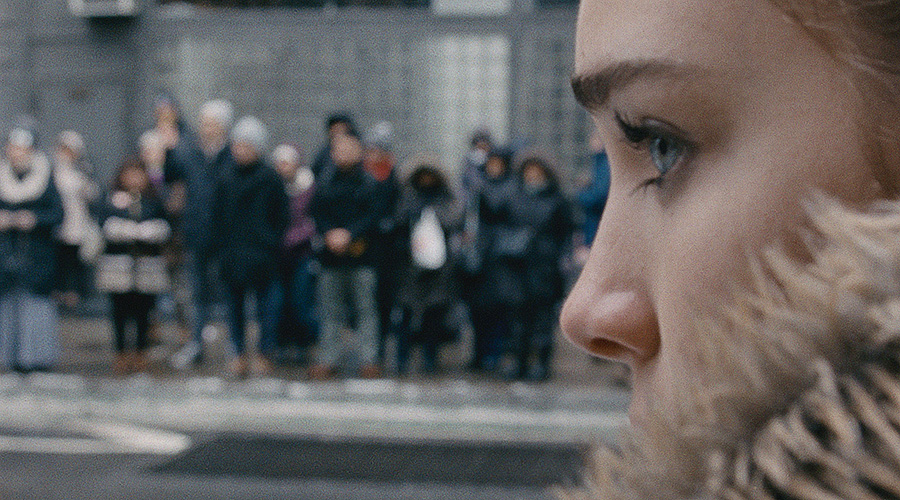 Many scenes in Never Rarely Sometimes Always play out in that gentle and effective way. Hittman treats her protagonists as fully formed human beings in their own right, stripping away every trace of melodrama one might expect. The matter-of-factness coupled with an acute eye for detail does not only elevate the material in an artistic sense, it is the adult approach it rightfully deserves. Deftly balancing the guttural and the non-judgemental, Hittman gives her protagonists all the space they need to make decisions for themselves.
And indeed, the movie does not lack visceral scenes. Early on in her desperation Autumn is seen punching her own belly, as physical as cinema can get. Later, in the eponymous scene in a New York hospital, another, empathetic nurse asks Autumn a series of personal questions, to be answered with "Never", "Rarely", "Sometimes", "Always". A static camera observes Autumn's reaction and we take the most devastating look into a personal story of sexual harassment and trauma. This trauma is not Autumn's cross to bear in particular. It is one of countless young women worldwide, women that have to navigate the boundaries of personhood and sexual freedom in daily Sisyphean labors.
From teenage boys yelling "Slut", to unsolicited kisses, text messages, lewd looks and full-on exhibitionism, the movie catalogues a whole range of (micro)-agressions. Hittman is so skilled at calibrating her audience that by the time another passerby looks up from his phone to check the two girls out, we shiver right away. In an extended subplot, the girls utilize the stubborn advances of a young man (Théodore Pellerin) in order to make their way home, just another guy looking to get the most for himself out of the encounter, a bitter aftertaste.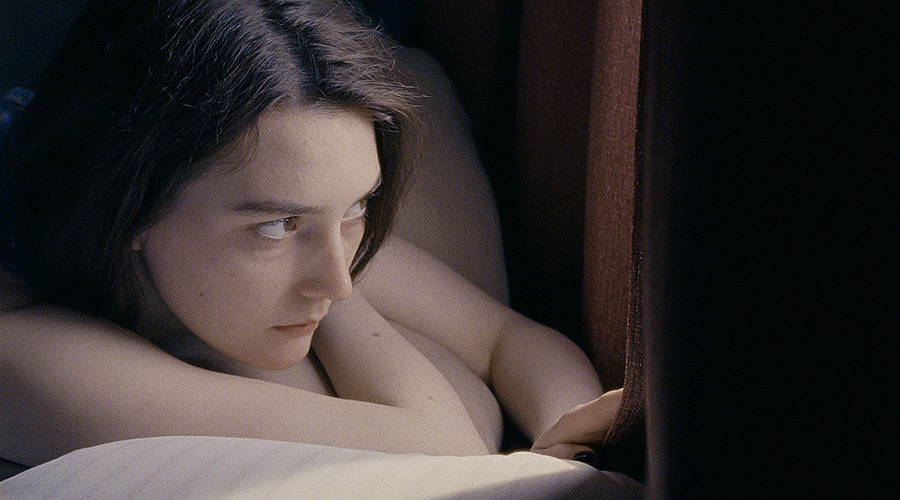 If these aggressions are shouting, the girls' friendship is all the quieter for it. Glances, soft touches, unsaid words draw us into their intimacy that has a telepathic quality to it. They have no more need to speak about the guy than they do about the abortion itself. First time actor Flanigan plays Autumn as a strong, impenetrable character with just enough cracks to become the most fleshed out teenage lead this side of Juno. She finds an equal in Ryder's sunnier disposition that saves the movie from the threat of gravity. Their friendship is organic, whenever the girls joke, we feel they have been speaking each others language for a long time.
Hittman's inspiration came from stories of Irish women that undertook one-day expeditions to London in order to get abortions. How would such a journey look like in present-day America, a country where many women have to travel more than 50 miles to get one?
Earlier this year, her third feature film premiered at 2020's Sundance where it took the Jury Award for Neo-Realism. A fitting description for a story that arrives just at the right time in America. Never Rarely Sometimes Always sees Hittman perfect her empathetic approach that made Beach Rats an engrossing piece of cinema. Whether it takes the Golden Bear is irrelevant, its existence is an award to itself.