In 2018, Gaspar Noé reentered the bizarre world of New French Extremism, which he first popularised with his film Irréversible – arguably his most shocking and undeniably fearless film to date. Noé's following project Love further provoked reviews that were all over the spectrum – his work has always managed to divide critics and audience members alike due to their controversial and often jarring nature. His most recent feature, Climax, reaffirms the auteur's talent for conjuring up wildly opposing emotions and feelings in his spectators.
While Climax was considerably better received by critics in comparison to Noé's previous features, with high appraisal for its powerful abrasiveness and beautiful dance sequences, it was nevertheless criticised for its excessive violence and lack of narrative structure. The plot itself is loosely inspired by a true story about a French dance troupe in the late 90s who had their drinks spiked with LSD at an after-party. Contrary to the tame reality of what occurred in the actual party, the more extreme events we see in the film, such as self-mutilation and indications of child abuse, all stem from Gaspar Noé's fascination with humanity's propensity for committing perverse and sordid acts. 
Sofia Boutella (of Atomic Blonde and The Mummy fame) stars as Selva, among a cast of unfamiliar talents such as Souheila Yacoub, Kiddy Smile, Claude Gajan Maull – just to name a few, most of whom are professional dancers-turn-first time actors. Though Boutella's protagonist is established as the leader of the pack, each cast member is not only granted an equal amount of screen time, but their own moment to leave a memorable, if not devastating mark, throwing away any notion of the "supporting role". 
The film opens with a one-shot dance sequence filled with spellbinding energy, in which bodies ebb and flow in perfect synchronicity as our dancers are unified for this one moment in space and time, only to retreat into self-preservation and individual desire as soon as the performance stops. Music plays a very integral role in Climax as it not only heightens the tension in each individual scene, but influences the way the dancers interact and express themselves. The disruption of a title credit sequence in alarmingly large neon fonts comes well into the first 45 minutes, announcing music giants Daft Punk, Aphex Twin, and The Rolling Stones, as if to give us our last and final warning to turn away before the great calamity ensues.
Noé's intention was to capture the energy that dancers possess, and the music they need in order to fully achieve a powerful performance, as stated in a 2018 interview with Wonderland magazine:  "Last December, I was invited to a voguing ballroom. I couldn't believe the energy and the crowd – and then I thought, I'd love to film these kind of people. I'd also seen that movie by David LaChapelle called Rize, about Krumping". Here, the camera work is fluid and soft, as it melts into scenes and almost becomes an illusion in the process, becoming somewhat unnoticeable, but as the film gets progressively out of control, so does the camera, creating a beautiful relationship between it and its subjects.
The film is built on the act of observing, building itself around sadistic voyeurism and our perverted sexual fascinations, making it a very liberating but confrontational cinematic experience. Characters are seen completely submerging themselves in alcohol, drugs, sex, and dance, making their journey feel like a hazy, delusional dream filled with occasional moments of unfiltered power and rage. As chaos takes over, every performer regresses back to their most primal and animalistic state as they become enwrapped in confusion, desperation and perversion: one character is coerced into an incestuous relationship, whilst another inadvertently commits infanticide.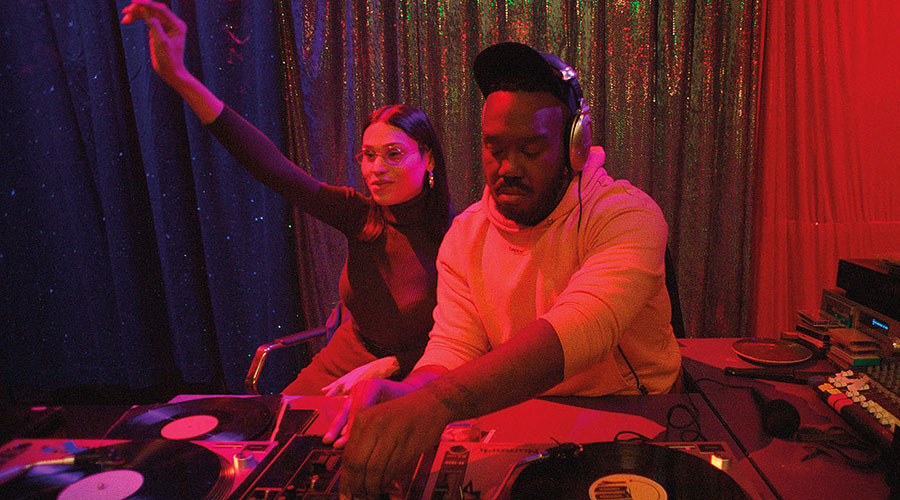 Shrieks and cries pervade the ballroom as the dancers become lost within themselves, reminiscent of Luca Guadagnino's 2018 Giallo remake, Suspiria, which would make a fitting spiritual companion to this film. It rarely harps on the beauty and fluidity of dance like Suspiria does, but rather shows a much darker and rage-filled side to the art of dance, the part of it that requires you to lose all control.
The variety of stark, primary colours take centre stage throughout every scene, elevating them and adding another layer of drama and life to them. As everything comes to a screeching halt in the third act, the room turns red, signalling the sickening acts committed in the name of death, passion, and war. The film ends with the same beauty that it started with, but this time there is a lingering sense of destruction and damage that wasn't present in the beginning, leaving us dazed and paralysed from the visual spectacle we have witnessed.
Gaspar Noé's Climax has been out for over a year now, and is now available on streaming platforms and VOD. Revisiting this film if you didn't catch it on initial release would be more than worthwhile. Test your endurance with this psychological thrill-ride of a film as it will leave you emotionally shattered, and yet, hungry for more disturbing and exciting cinematic experiences.