EDITORS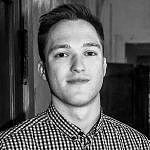 JACK HOWARD  
Founder
A graduate in Literature, Jack founded the Berlin Film Journal's parent organisation, the Berlin Film Society, in 2012. In between film programming, project management, and festival hopping, Jack dreams of buying a one-way ticket to Tokyo and producing cinematic documentaries.

NATHASHA O. KAPPLER 
Editor
Nathasha is a film programmer at Berlin Film Society and Deptford Cinema. She splits her time between studying Literature and Film in London, and contributing to SVLLY(wood) Magazine. She often gushes about cats, 90s Brit Pop, and unhinged heroines. She dreams of working on a Paul Thomas Anderson joint.
---
CONTRIBUTORS
JORDAN O'SHEA
Staff Writer
Jordan is a multi-award-winning writer, filmmaker, and musician, with a dangerous adoration for speciality coffee. He dreams of making a film as good as The 400 Blows one day.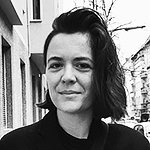 SOPHIE MAYER
Staff Writer
Sophie Mayer is a freelance writer, film critic and researcher based in Berlin. A graduate in English Literature and Film, she spends her time writing, philosophizing and examining films.

TANJA BRESAN
Staff Writer
Tanja is a film enthusiast, lover of all seventhies movies and shy writer of short and long film observations. Currently based in Berlin. Dreaming of being a film projectionist. Surprising you and herself.                                          .
MIKA MANNING
Staff Writer
Berlin-based, Irish-rooted artist Mika is a co-programmer for Berlin Film Society's upcoming short film series Cherry Picks. They're currently playing with all sorts of art projects, with the dream of one day telling a story.
RENE J MEYER-GRIMBERG
Staff Writer
Rene Meyer-Grimberg has been watching films critically for herself with others in classes and at festivals for as long as she can remember. She consumes an inordinate amount of culture in all forms and travels a lot to keep it interesting. 
ANTON DECHAND
Staff Writer
Berlin-based writer of short fiction, essays and reviews. Equally indebted to Roger Ebert, David Foster Wallace, Rilke and Tool. I think stories is what we live for.  
MILLICENT THOMAS
Writer
Millicent Thomas is a freelance writer, Social Editor and podcast co-host at Screen Queens. Currently an undergraduate in Film Studies & Publishing, she longs for the day when Charles Xavier knocks on her door to tell her she's the worlds most powerful mutant.
                                                                              .
EDWARD JARUSIEWICZ
Writer
Edward is a freelance writer, filmmaker, and video editor located within the United States, where he is currently working towards a Film Studies degree. He dreams of maintaining a backyard pond and someday creating his magnum opus.
MICHELLE  WONG
Writer
Australian-based freelance writer, aspiring screenwriter, and law graduate. Michelle is currently studying film and working towards becoming an admitted lawyer. In her spare time she likes to eat artisan sourdough and drink instant coffee while working on scripts.
WILLIAM HEPNER
Writer
William is a freelance writer and cinephile who enjoys swimming and studying languages, as
well as taking long walks in the evening. He currently resides in Los Angeles.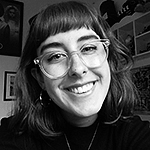 MEGAN WILSON
Writer
Megan Wilson is a freelance writer and film student from Manchester, currently assistant editing and podcasting at Screen Queens. She is an ardent lover of cats, critical theory, and Carol (2015).
MARCUS TELL
Writer
Berlin-based Film Director and writer of rebellious kind of films. Studied Film theory in Tel Aviv University, where he led a mutiny that managed to change the structure of the film department. Besides that, he's a huge fan of European Arthouse cinema and social-realistic literature.

RUAIRI MCCANN
Writer
A film writer, filmmaker and programmer based in Ireland and an auteurist with flexibility who adores his cat, weird fiction and John Ford.
KSENIA STROGANOVA 
Writer
Raised in Moscow, Ksenia is calling Berlin her adopted home for several years now. After finishing her linguistic studies and completing a journalistic traineeship, she wrote for both print and online media. As a film enthusiast and passionate storyteller, Ksenia is always happy to share with you some exciting facts around cinema.
BRIAN MCGLEENON
Writer
Brian is a news reporter for The Express. He started his career working on documentaries for Shanghai based Pear Video. He has bylines in the South West London News and Mandy News, where he has interviewed Mike Leigh and Jan Harlan. Brian has also worked for Northern Ireland Screen and been awarded production grants for shorts and feature film development. 
SWATI GODBOLE
Writer
Swati is a film enthusiast, freelance writer, and an aspiring screenwriter and novelist based in the 'little red dot', aka Singapore. Her natural habitat comprises, not necessarily in this order, good food, film, fotography, fiction, fitness, family and friends.