Nominated for 9 Oscars, with well-deserved nods given both above and below the line, Birdman is expected to sweep most of the Academy's laurels come February 22nd. But what about it, or the "Unexpected Virtue of Ignorance" that its subtitle hints at, could very well end up making Alejandro González Iñárritu only the second Mexican ever (in as many years, after Alfonso Cuarón's made history in 2014) to win the Best Director's Oscar?
As I set about picking at the movie on a sunny weekend mall-day, I found myself, two hours later, feeling not only overwhelmed by its at times grueling and cringe-worthy clarity as to what makes actors tick, but awestruck by the cinematic technique that famously runs through and props up most of the flick. More than a gimmick designed to rake in eyeballs and Oscar votes, the one-shot-take illusion that follows the goings-on in and around a Broadway theater lends the movie a sense of rhythm, a madding urgency that we understand to be simmering just below the surface. However arresting, it's also not the key to the MPAA's heart by any measure – I'd venture the clincher there was the all too relatable story it underpins.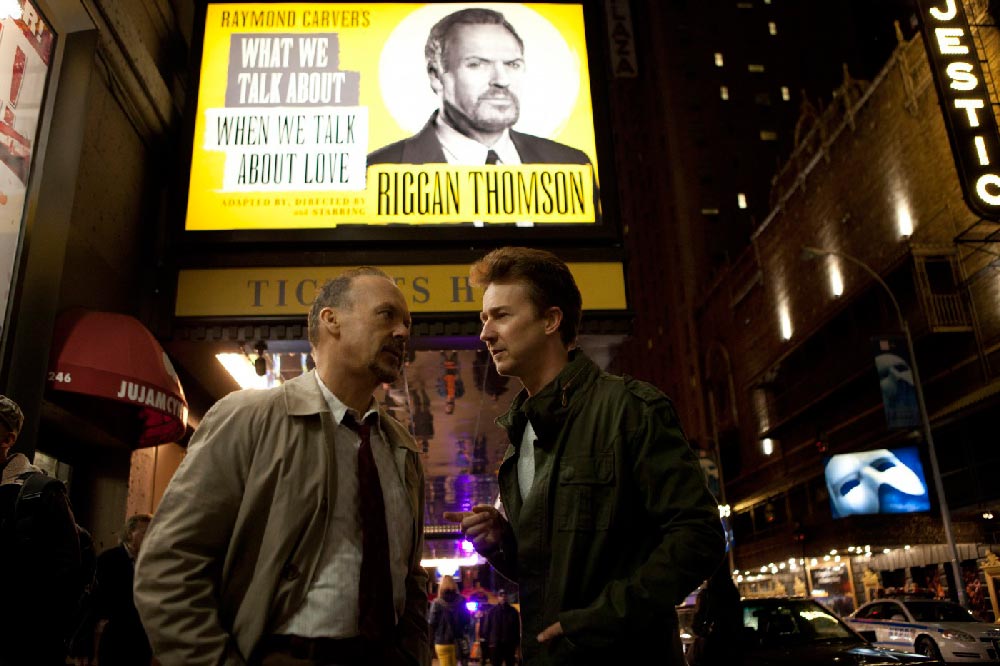 Essentially a wordy play itself, Birdman unspools in lockstep with the last stages of putting on a play on Broadway, following its main character and promoter from the first previews through to the opening night at the St. James Theatre. But again, as the smoke of levitation, preparation and desperation clears, it leaves a backbone of self-inquiry, self-doubt, which is what the film boils down to, really: a middle-aged actor (played by Michael Keaton) who made a name for himself by donning a superhero's cape in Hollywood tent-poles is now being haunted (quite literally – Birdman's voice can often be heard raging against him in his head) by his choices, to the point of needing the recognition of the hoity-toity Broadway elite to get back in the driver's seat of his own life. It's the mother of all midlife crises, one would assume, that which plagues the ever-inquiring mind and hyper-sensitive soul of an actor.
Like a string of protagonists in movies released of late (from Julianne Moore in Maps to the Stars to Juliette Binoche in Clouds of Sils Maria or Robin Wright in the criminally underrated The Congress), Birdman banks on Keaton's Riggan to enthrall the viewers, an overwhelming contingent of whom readily indulge in the guilty pleasure of peeking into celebrities' lives – especially when they're down and out. His character, a former Tinseltown powerhouse, now struggling to get back to the roots of his love of acting, is under a lot of pressure for the play he adapted himself (from a Raymond Carver story), directs and stars in, to not only get off the ground, but do so to rave reviews – which is pretty hard to do by just cashing in on one's blockbuster clout.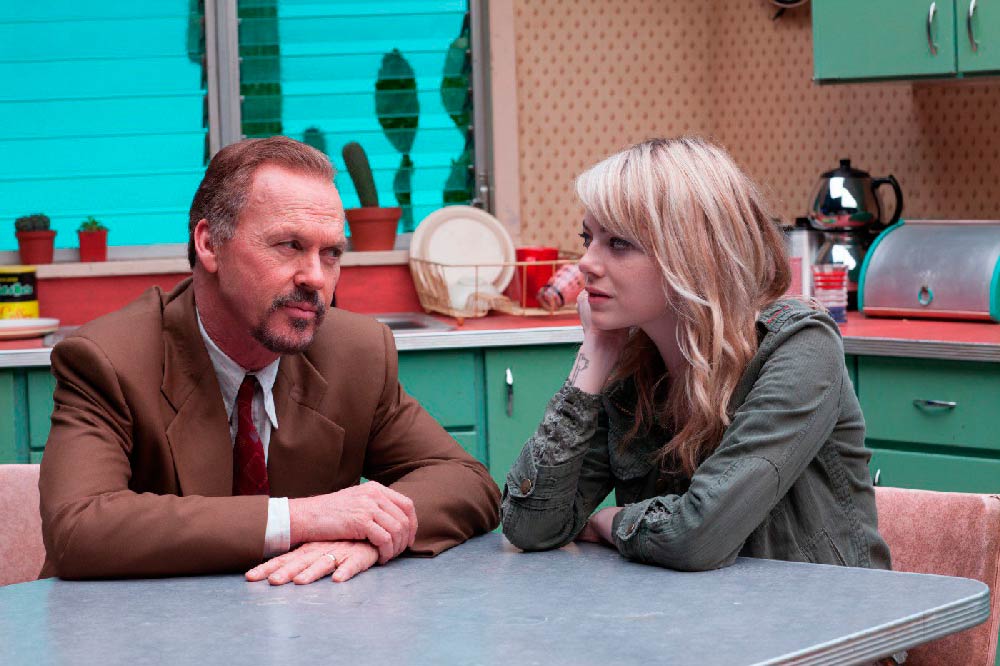 Little did I know, here in Europe, where we tend to look up at the Hollywood glitterati, that celebs enjoy a backlash across The Pond, in New York. As it turns out, NYC's highbrows are itching for a chance to nip Riggan's "What We Talk About When We Talk About Love" in the bud, and, counterintuitively, his top billing only sics the theater critics harder on his case. Iñárritu does a stellar job of immersing us into the backstage of the biggest, brightest spot of the world's theater circuit – a no-frills image of Broadway, as a whole, can be inferred from this backstage pass into Riggan's labor of love, from Naomi Watts's debutante's hunger, from the artsy prattle, as well as the genuine insight into the art and its posers, displayed by Edward Norton's established thespian, Mike.
The director does however also show the flip side of it all: beyond the bright lights on the marquee, darkness looms large as Riggan is often faced with hurdles that constantly threaten to cut him off at the pass – dwindling finances, expensive talent, jaded ink slingers and a plain-spoken, pugnacious daughter (first-time Oscar nominee Emma Stone) who, despite not having him around for most of her life, knows him and which buttons to push, showing no qualms about calling him on his sanctimony and pointing out his irrelevance. This mounting overall tension will eventually bubble over, to great effect and some breathtaking imagery that I won't spoil for you now – but it's the main character's chips and cracks and the actors' on-the-ball perfs that I reveled in the most.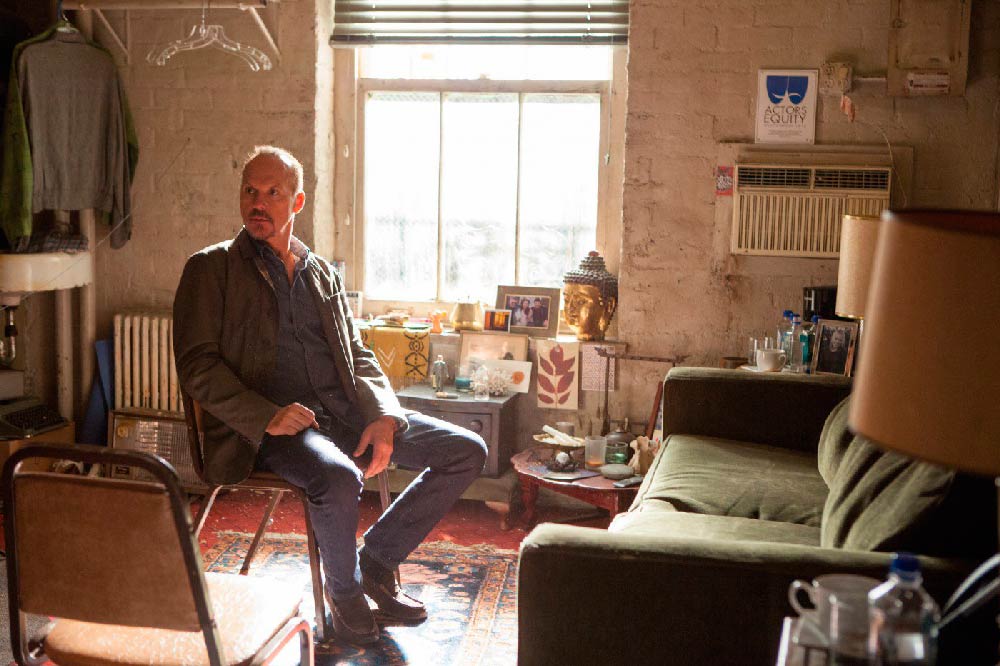 Keaton, whose 1989 Batman might well invite some parallels with Riggan's own eclipsing superhero role, is as brittle and ultimately unraveled as you'd expect from any aging man at an existential crossroads, but there's an uplifting streak to him, saving this part from the doldrums of just another midlife soul searcher: he positively, crisply glows with the childlike hope that comes with the actor's calling.  Riggan marches to the swelling beats of his very own orchestra, the percussionist sometimes glimpsed at during a camera pan, and is constantly entertaining Birdman's raspy invectives, his own hallucinations of grandeur and kinetic might – all of which is to say that, if unreliable narrators are not your thing, you might not want to hop on to this mind-bending ride. Though, to be sure, it's not as mind-bending as some of Iñárritu's earlier fare.
Still, Birdman delights at every turn, not least of all on the back of Riggan's darkly humorous, at times slapstick even, misadventures or sheer bad luck, a free fall that the fluent camera pans depict as if in one fell swoop. Through DP Emmanuel Lubezki's lenses, every corner of the theater wings, narrow, cramp and stifling though they all are, comes alive like a magical passageway through time – underlining the larger-than-life powers that govern the dramatic art. And the larger-than-life egos that buttress it, groping around in the dark for applause or fame, or both.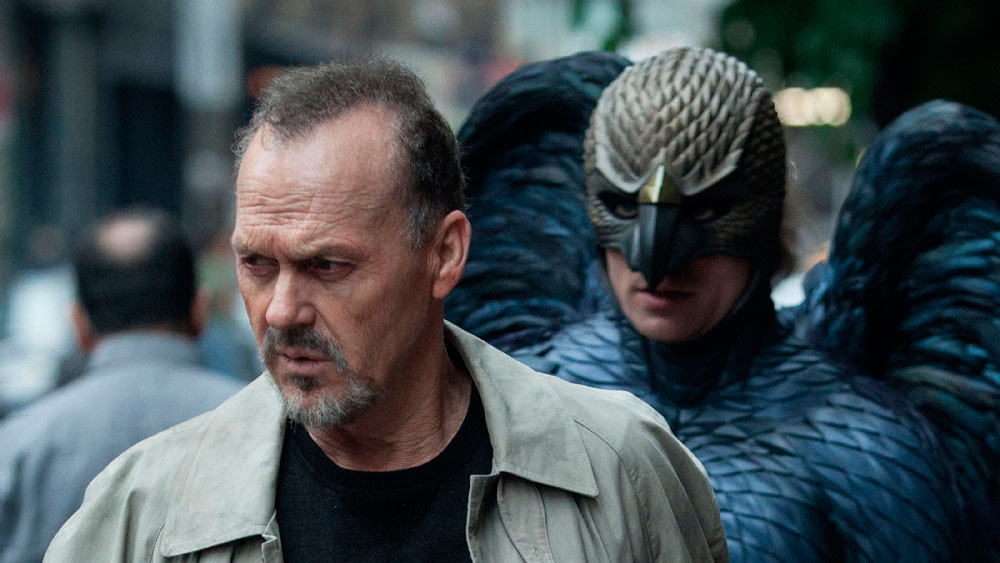 As is often the case in real life, the actors in Birdman (both those playing actors and those who embrace the convention from the sidelines) get away with a lot: arrogance disguised as truth-telling which in turn disguises a sensitive nature (Norton's won him an Oscar nod of his own), or fierce ambition that, with the finish line in sight, could easily bulldoze through any relationship or human connection. But The Actor also withstands a lot, which is my takeaway from Birdman – defending his/her nature every step of the way, pursuing pipe dreams and the admiration of a largely ignorant audience.  Their stamina is uncanny, their skin translucent and pregnable, but every once in a while, they manage to hold Infinity in the palm of their hands and Eternity in an hour…