EDITORS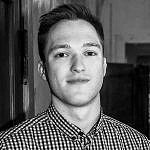 JACK HOWARD  (@JackJackHoward)
Founder
A graduate in Literature, Jack founded the Berlin Film Journal's parent organisation, the Berlin Film Society, in 2012. In between film programming, project management, and festival hopping, Jack dreams of buying a one-way ticket to Tokyo and producing cinematic documentaries.

NATHASHA O. KAPPLER  (@tashakappler)
Editor
Nathasha is a film programmer at Berlin Film Society, and studies Film and English in London. She splits her time between doing freelance work in child education, and graphic design for political film journal SVLLY(wood) Magazine. She dreams of working with Paul Thomas Anderson and retiring in Muswell Hill.
---
CONTRIBUTORS
JORDAN O'SHEA (@jordanmoshea)
Staff Writer
Jordan is a multi-award-winning writer, filmmaker, and musician, with a dangerous adoration for speciality coffee. He dreams of making a film as good as The 400 Blows one day.
EDWARD JARUSIEWICZ (@landlubberer)
Writer
Edward is a freelance writer, filmmaker, and video editor located within the United States, where he is currently working towards a Film Studies degree. He dreams of maintaining a backyard pond and someday creating his magnum opus.
ANTON DECHAND
Staff Writer
Berlin-based writer of short fiction, essays and reviews. Equally indebted to Roger Ebert, David Foster Wallace, Rilke and Tool. I think stories is what we live for.