The last decade or two have seen South Korean cinema produce international hits such as Park Chan-wook's 'Vengeance Trilogy' and The Handmaiden, Lee Chang-dong's brilliant Burning from 2018, and Bong Joon-ho's, well, everything! Slightly less of a household name to some audiences, perhaps, is Hong Sang-soo, a filmmaker who once had two films showing at the Cannes Film Festival in the same year! His latest effort – The Woman Who Ran – has won Hong the prestigious Silver Bear award for Best Director at this year's Berlinale.
Hong Sang-soo is certainly a prolific filmmaker, The Woman Who Ran being his 24th feature in 24 years in the industry. It would be remiss for any review of a Hong film not to mention the many similarities his films have. Typically featuring long tableaus of dialogue by characters who are either eating, drinking or smoking, Hong's work has tended to explore male/female dynamics, the miscommunication of feelings, and stories of self-aware neurotics, all within everyday domestic life. These motifs, in addition to his prolific output, have led some critics (including director of Cannes Film Festival Thierry Frémaux) to brand Hong "the Korean Woody Allen", although comparisons with Éric Rohmer could be more fruitful. Whilst echoes of Hong's trademarks can definitely be found in The Woman Who Ran, the auteur's latest film also contains some departures from his tried-and-tested ingredients.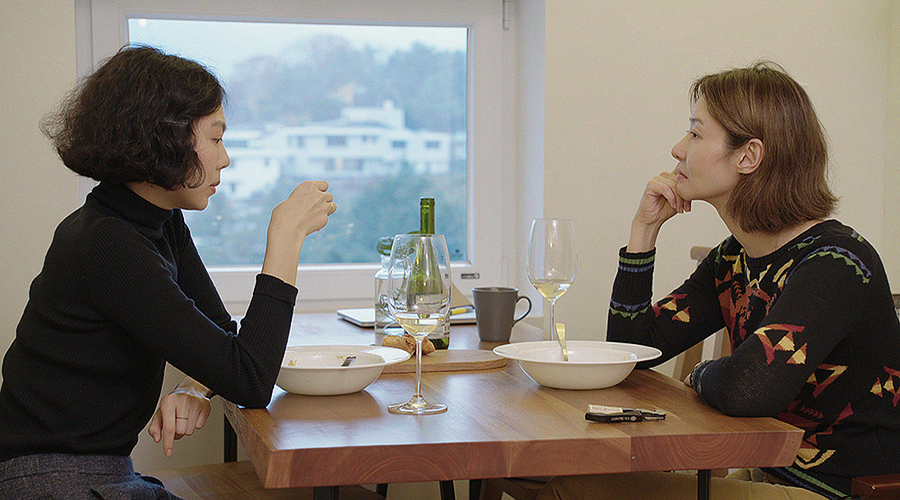 The Woman Who Ran's story is simple: Gam-hee (played by the excellent Kim Min-hee) is away from her husband for the first time in five years as he is on a business trip, so she separately visits three friends on the outskirts of Seoul. First visiting Young-soon, Gam-hee remarks on how nice it would be to enjoy the mountain-view and clean air, and how she is considering vegetarianism, whilst simultaneously tucking into a grilled meat lunch. This first vignette allows Hong to demonstrate his undoubted knack for humour: answering the door to the first of the film's men on the fringes, Young-soon's housemate dismisses their new neighbour's concerns about stray cats with absolute deadpan delivery. The following day, Gam-hee visits slightly older friend Su-young, who is having relationship problems with the two different men she slept with recently. Finally, Min-hee visits old acquaintance Woo-jin, who possibly could have been more than just friends with our protagonist but the two lost touch quite some time ago. Just like Young-soon and Su-young, Woo-jin also has a man on the periphery, this time a husband who is criticised for talking too much on television. These explorations of female friendship is a major theme in The Woman Who Ran, and marks a change from Hong's typical focus of male/female relationships.
This film doesn't necessarily function to provide audiences with answers as such, nor to make grand sweeping statements. The Woman Who Ran allows Hong to construct a framework of ideas – such as repetitions, versions and comparisons – onto which his audience can apply their own meanings. The meetings between Gam-hee and her friends are essentially repeated three times, resulting in different versions. During these encounters there are further repetitions on offer, whether the triplicated inadequate men, or more abstract repetitions such as apples being peeled in several different scenes. Through these images, Hong invites his audience to actively engage with his film.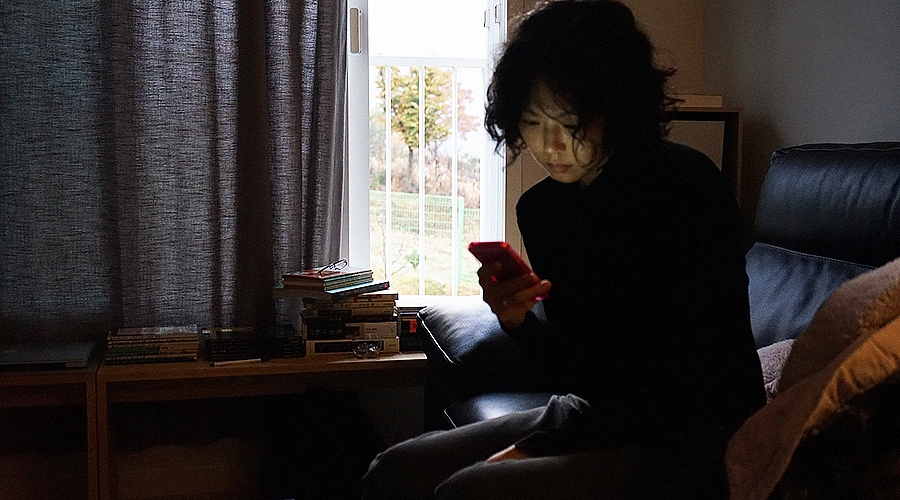 Cinematographer Kim Su-min regularly shoots Hong's trademark zooms to interesting effects: in one scene a stray cat washes itself and then stares directly into the camera lens, suggesting it is there to stay, whilst later Gam-hee's and Woo-jin's hands touch, thereby hinting at a romantic past. Hong certainly gets lucky with the cat's star turn, coming at the end of the film's most humourous scene, and performing at just the right moment; trust me, it's worth the admission price alone! Kim's camera also discreetly marginalises the male characters by either placing them on the edge of frame, or by shooting them from behind, thus rendering them anonymous.
Hong's films often have a minimalist quality to them and The Woman Who Ran is also constructed in this tradition. The lighting shows a naturalistic aesthetic, predominantly consisting of natural daylight. There is minimal use of music too, with only simple and distorted melodies (composed by Hong himself on his phone, apparently) featuring between vignettes. Finally though it's the film's females who steal the show, especially regular Hong collaborator (and offscreen partner) Kim Min-hee as Gam-hee. With effortless naturalism, Kim superbly sets The Woman Who Ran's tone – seamlessly shifting from playful to melancholy and back again – which is fitting for a film with women at its centre, and men very much on the edge.