Structured around the seasons of the year in a remote village in the high Atlas Mountain Valley in Morocco, Hadid captures the delicate and intimate moments in the life of the 16-year-old Khadija in her new film, House in the Fields. Daily life in this extraordinary place unfolds through the cooking, eating and quiet conversations held in private spaces in a slow and measured pace. The family members also directly address the camera, and tell their story.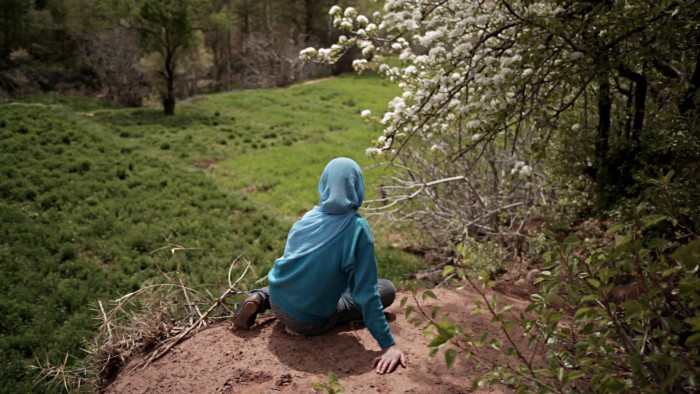 Over the years, filmmaker Tala Hadid has moved her career step by step towards the Berlinale. Her 2005 college thesis film Your Dark Hair Ihsan, won a Kodak prize, a student Academy Award and the Panorama Short Prize in Berlin in 2006 and her new film, House in the Fields, was awarded funds from Final Cut after being shown at the Venice Film Festival in 2015. Her latest offering delivers a beautifully simple rendering of daily life in the village, capturing intensely intimate conversations between teens – both friends and sisters. We see two young girls converse under the trees to discuss their roles as women and their newly won equal rights for women in Morocco. They watch TV so they get wind of what is happening outside the Valley.
Khadija wants to be a lawyer. Her older sister, Fatima, had to stop school because she is engaged to be married. As we watch the interactions and flow of daily life, we wonder if the old embedded culture will change with the establishment of such progressive laws. The daily work of survival, hand-hoeing the fields, cutting wood, milking goats, snacking from the bounty of the trees and collecting grass in large baskets seem incompatible with the girls ambitions.
Hadid visited the area repeatedly and waited for weeks before finally feeling immersed enough to take out the camera. She and one assistant shot the film during repeated visits to the remote village, a village which does not even have a real road connecting it to the rest of Morocco. Passing through this region to film her previous movies, she knew the area had real potential and felt strongly that the culture needed to be documented before a planned road brought irreversible changes. The proper road never came, so though we hear the kids noticing cars passing, the impending passing of the culture may, at least for now, be delayed.
Beautifully intimate and charged with the sense of inevitable change to come, this prescient production, embellished with minimal sound and a fantastic spectacle of celebration for an ending, makes House in the Fields well worth the journey.