It's no great secret that music and film go hand in hand. Before the spoken word made it into cinemas, films were often accompanied by live performances, be they from pianists or more ambitious orchestras, and ever since the marriage between what we see on screen and hear has been an exciting one for cinematic audiences all around the world. The use of a certain song or instrumental piece in a film can completely make or break a scene, change perceptions and stick in your memory for a lifetime. What's more is that the right song can introduce a viewer to an artist they might fall in love with, and it's to films that I owe much of my musical education. In no particular order, here are the first ten of my personal favourite music moments in films from the past two decades.
Rabbia E Tarantella, Ennio Morricone (Inglorious Basterds, 2009)
Tarantino is responsible for some of the most iconic music moments in film, from his use of Stealer's Wheel song "Stuck in the Middle with You" in Reservoir Dogs to the original soundtrack to Django Unchained that combined the sounds of classic westerns with contemporary rap and hip-hop tracks. It's difficult to pick a specific moment in 2009's Inglorious Basterds considering how brilliantly music and movie are intertwined, but for me it's the final scene in Inglorious Basterds that stands out as an instant classic. When Aldo the Apache utters the words "I'm gonna give you a little something you can't take off" to Colonel Hans Landa and the music grows from a dull thud to a clattering crescendo as the final credits role, Aldo's assertion that "This might just be my masterpiece" rings just as true for Tarantino.
Just Like Honey, The Jesus and Mary Chain (Lost in Translation, 2003)
It's difficult to choose between this moment and the karaoke bar scene in which Scarlett Johansson sings The Pretenders' "Brass in Pocket", but for sheer emotional impact, the film's finale wins out. Teaming a song that manages to be simultaneously melancholy and romantic with the bitter-sweet parting of Charlotte and Bob was an inspired decision and a perfect ending to a pretty perfect film.
Where is My Mind?, Pixies (Fight Club, 1999)
Judging by the number of endings that have made it onto the list it's safe to say that some directors like to save their best track for last, and David Fincher's Fight Club is no exception. The use of this cult classic alt-rock song illustrates perfectly the collapsing world of the Narrator/Tyler Durden, both literally and metaphorically, as things quickly unravel from the big reveal onwards. It was a wise choice and has become engrained in popular culture as one of the quintessential film moments of the nineties.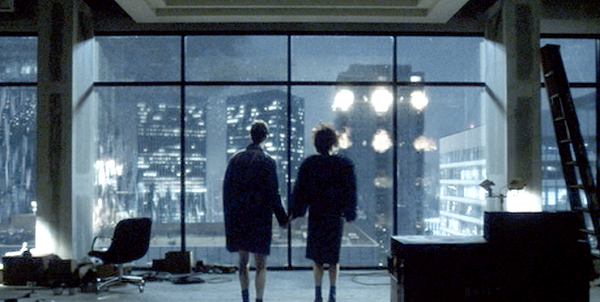 Hurdy-Gurdy Man, Donovan (Zodiac, 2007)
Once again Fincher appears on the list, this time taking the 1968 song Hurdy-Gurdy Man written by Scottish singer Donovan about a man being visited in his dreams by the mysterious eponymous figure. The song has actually been used in five films other than Zodiac but this is arguably its most disturbing and memorable usage. In the context of the film, it's heard over the radio as a couple in a parked car are distracted by the arrival of a stranger. The music gets louder, more frantic, as the violent scene unfurls.
You Always Hurt the One You Love, Performed by Ryan Gosling (Blue Valentine, 2010)
Ryan Gosling is an accomplished indie musician in his own right, but the scene in which he plays the ukulele and sings a version of an Alan Roberts song whilst Michelle Williams tap dances along is so impossibly sweet and heartfelt you'd have to be made of stone to not let it raise a smile. Of course, its place within one of the saddest romantic films ever made makes it even more poignant.

I'm Shipping Up to Boston, The Dropkick Murphys (The Departed, 2003)
Whilst my favourite musical moment in any Martin Scorsese film comes right at the end of Goodfellas in the excellent use of Sid Vicious's cover of "My Way", this is a close second. Used multiple times throughout the film this Celtic-Punk track becomes a sort of anthem, but the most compelling is the first, as Bill Costigan begins serving his sentence as an undercover cop and Colin Sullivan makes headway spying on the Massachusetts State Police. It's a shouty, frantic song with crashing instrumentals that reflects the hard as nails attitude of both protagonists, and foreshadows the chaos that's about to ensue in this complex game of cat and mouse.
Still, Geto Boys (Office Space, 1999)
In a scene that's been parodied a thousand times since, three disgruntled office employees and one baseball bat take revenge on a printer that frequently malfunctioned. It doesn't sound like a straightforward recipe for comedy success, but there's something about watching a wretched piece of office equipment being obliterated in slow motion to the sound of rap music that is oddly cathartic, especially for anyone who's ever been faced with stubborn technology or for the matter, working an office job.
Night Call – Kavinsky (Drive, 2010)
Shots of night-time city skylines, neon-pink titles and a toothpick chewing Ryan Gosling driving an achingly cool vintage car makes for one of the best sets of opening titles in the history of modern cinema. This track by French house artist Kavinsky embodies the eighties vibe that director Nicholas Windig-Refn was so keen to invoke and really set the film's tone, whilst plenty of over the shoulder shots and close-ups remind us acutely that the Driver is absolutely the film's core.
"Good Bye Lenin", Yann Tiersen (Good Bye Lenin!, 2003)
Although his most famous work is probably that featured in the 2001 film Amelie, Yann Tiersen's original score for Wolfgang Becker's film is equally impressive and the scene I've chosen is when Alex's amnesiac mother Christiane gains enough strength to leave her home and discovers that Germany is in fact reunified and all around her change is taking place. As she watches a helicopter overheard removing a statue of Lenin (a literal interpretation of the film and track's title) the instrumental piece reaches its crescendo, reflecting Christiane's sudden realisation in one beautifully orchestrated scene.
"Perfect Day," Lou Reed, (Trainspotting, 1996)
Another film with a sublime soundtrack, it's difficult to know where to start with Trainspotting, but a good place is with the use of Loud Reed's Perfect Day. Long rumoured to have been written about heroin, the song is used in the film to underscore Renton's relapse into addiction and eventual overdose. Sinking into the carpet on his drug dealer's floor Renton envisions himself in a coffin as we witness his journey to the hospital and the harrowing sight of the attempts made to save his life.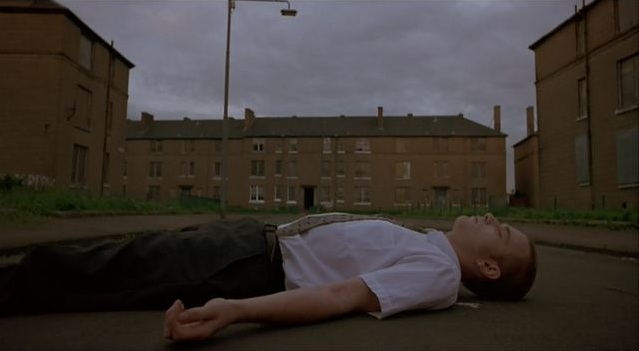 That's it for now, check back next week for the concluding ten moments. In the mean time, feel free to share your own favourites in the comments below!