International Queer Film Festival has just finished in Berlin. This year the four day event showed short films from Scandinavia, Germany and many more countries. BFJ visited one of the sections, Festival Focus, to view the Swedish film "Apflickorna (She Monkeys)", to see what things are like at the festival of the unusual and a bit of taboo cinematography.
No queues and no waiting – that's what one meets at the entrance of Moviemento cinema. The rope with underwear over the entrance is symbolic as well as available applets. There is the non-stop showing of the latest masterpiece of von Trier and a film festival brochure. The walls are plastered with posters from top to bottom, so that questions about the premises' purpose simply do not arise. Limited space and unfamiliar soulmates make a suitable atmosphere for the truly other type of cinema which is not performing but made for each particular spectator. Thematic advertisement has finished, and the first shot appears…
Swedish director Lisa Aschan devoted her debut work, "Apflickorna (She Monkeys)", to the issue of power cognition. The main character, Emma, wants to get onto the local horse dressage team, where she met her future friend or rival Cassandra. The girl seems to be friendly; she trains Emma, gives prompts and brightens up her free time. However, not everything goes smoothly because, ultimately, Cassandra seems to become attracted to the girl. In parallel the younger sister of Emma, seven year old Lisa, begins to explore her sexuality, starting from tender feelings towards her older cousin, who sometimes is forced to spend his days with his little relative.
The first thought that comes to mind is "I know this sound of the blower" that's muted by nothing, clear and filling the room while the protagonist, played by Mathilda Paradeiser, is doing morning exercises. Every shot is careful and almost documentary. It's cinematography without embellishment, revealing some clumsy heroes' movements. However, it does not hurt the eyes, rather makes the film a true and close to reality.
Some people talk that there is not much from Sweden in this film, but on a closer viewing Sweden is almost everywhere: in the silence that sometimes cuts the hearing, in laconic shots of old nature. And the characters seem to be a bit otherworldly. They keep silent too much and don't try to involve the spectator although the situations are familiar for every person who was an adolescent.
Sparing with words, dialogues tells only necessary information, but the silent close-ups of heroes say much more. Here Emma and Cassandra check each other on trust. There Cassandra asks privately "Why are you leaving me? Why are changing for this guy?" Probably the richest character is Emma's younger sister Lisa, clever beyond her years, who is beautifully played by Isabella Lindquist.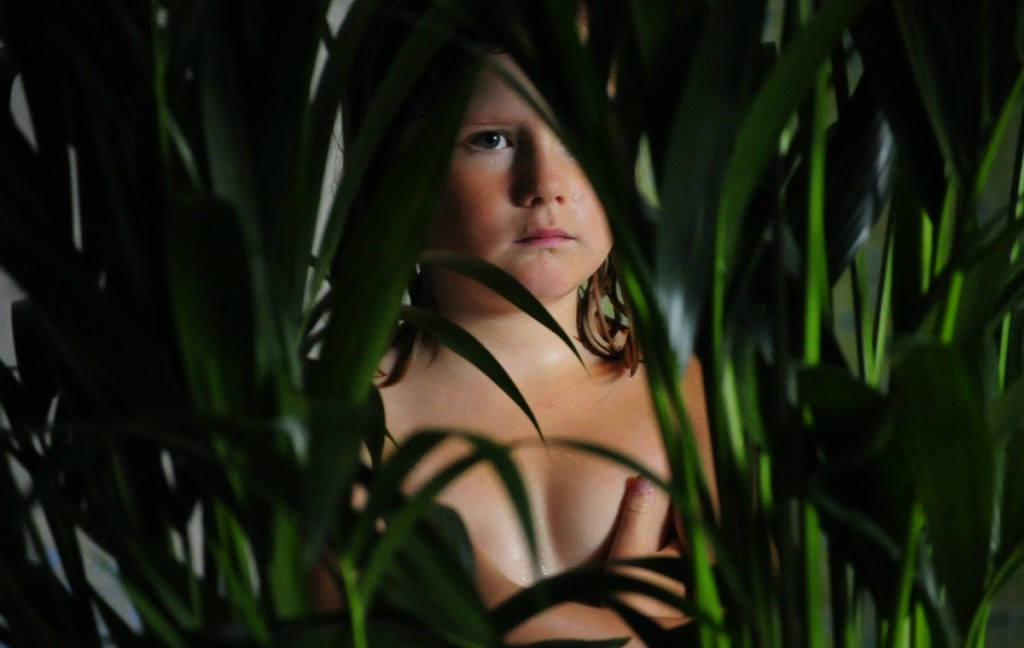 Control, power and sexuality are the pillars of "Apflickorna (She Monkeys)" and if the first one is a responsibility of Emma with her tight plait, dog training and memorizing phone numbers, then power is the mutual issue of her and Cassandra. The question of power and who gets it appears from the very beginning, from their first sight to each other. It arises in swimming pool where Cassandra confronts Emma from the tower into the water. It's at the bay, when the friend of Emma incites her to throw a guy after stealing his clothes. It's here when one of them says "I love you," and touches the toes or kiss to prove it. But the film does not refer to the adolescent homosexuality. All the points that people suppose as sexuality is nothing more but the excessive teenage sensitivity and romance, when every glance means a lot and every touch is already intimate. Becoming close to each other, the girls can't stop competing: they fight at training and then try to resume their relationship, but it becomes harder and harder. It lasts until Cassandra shows the highest degree of trust and tries to rule openly saying "Hit me" and giving her cherished place in the team to ambitious Emma.
If talking about the sexual part of the film, this is, surprisingly, a task of Lisa. Ashamed in the swimming pool because of the upper swimsuit part absence, the girl firstly unwittingly compares herself with adult women in the public bath. And lately intently chooses a new suit – a leopard print bikini because the role models of this world wear similar ones. But something childlike still lurks in her actions when she paints cat whiskers on her face whilst wearing her leopard print bikini. It also takes place in her naive copying of adults' behavior and manipulative attempts, but growing-up is already breaking through when she asks to pat her cousin on the belly or dances to the "beloved" one. These simple and familiar rituals have a frightening sexual connotation at first, but it's just a mirage, because that's the very essence of coming-of-age.
And that's why the ending is lifelike and neutral. The main character achieves her goal but relinquishes her moral principles. Her younger sister goes through the first disappointment of unrequited love. But both have grown up, thrown some of their childish illusions away and become stronger. And so it should be.